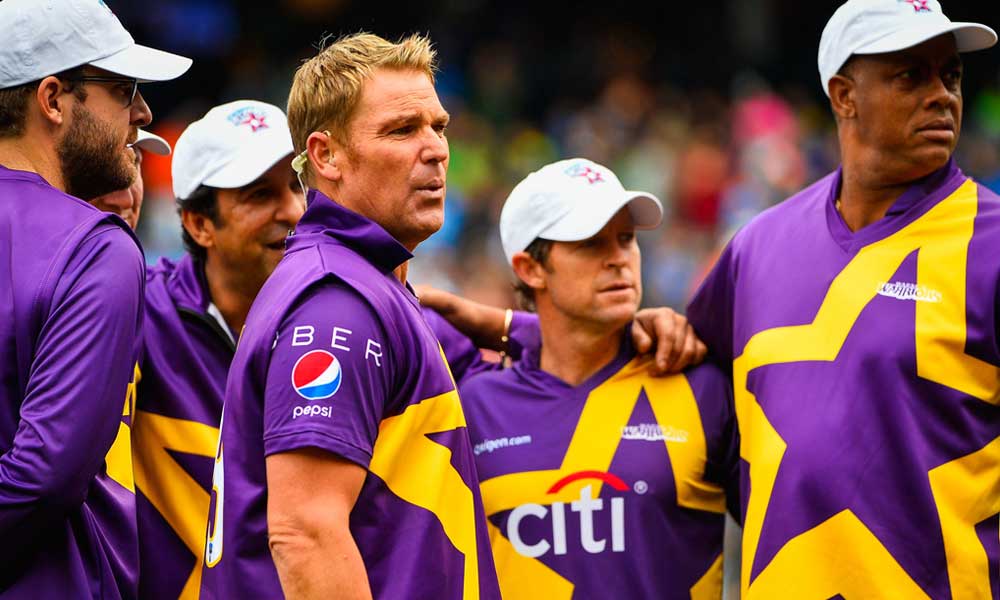 Amid a sea of Indian shirts, fluttering Pakistan flags and deafening roars, New York cricket fans turned out in their thousands to watch greats of the game face off against each other on Saturday — in a baseball stadium.
Australian spin king Shane Warne and Indian legend Sachin Tendulkar captained two star-studded teams in a Twenty20 match designed to introduce Americans to what organisers billed as the world's second most popular sport.
Warne's Warriors beat Sachin's Blasters, with Warne man of the match after claiming Tendulkar's wicket. 
But it was the Indian star whom most of the overwhelming South Asian expatriate crowd had come to see.
"Sachin, Sachin, Sachin," screamed the stadium in unison, hundreds wearing blue Indian shirts, many with the record-breaking batsman's name emblazoned on the back.
"Sachin for President," read one banner.
Snacking on hot dogs and nachos, chewing on pretzels and quaffing beer, for many it was the first time in years they had watched live cricket in America, long starved of the sport.
The three-hour match will be followed by games in Houston and Los Angeles.
Warne told reporters 36,000 people had packed into the Citi Field — home of the New York Mets baseball team — for the game.
"I thought it was fantastic, the atmosphere was amazing," he said.
At the end, the players lapped the pitch, waving and applauding the crowd, which Tendulkar compared to the home crowd at the Mets' World Series.
"The whole idea of Cricket All Stars is that, to try to get as many nations together to celebrate this," Tendulkar said. "It was electrifying."
"The music, crowd, atmosphere — it was nothing not to like. How could you not enjoy that experience today? It was fantastic," said Warne.
Fans from all backgrounds helped create a party atmosphere.
There were couples with babies, fathers with sons, and youths waving flags of India, Pakistan, and Sri Lanka.
There were glamorous women dressed in chic Pakistani shirts and skinny jeans, more sedate married women in dupattas.
All were fixated by the action. Tendulkar's opening stint at the crease saw the concession stands deserted, few willing to waste a second of a once-in-a-lifetime opportunity.
"Sachin has been my hero growing up so I had to come," said Akriti, who was born in Delhi but has spent more than half her life in America.
She believes Americans could easily embrace cricket, and brought along her enthusiastic American husband Scott as proof.
"The fact that we in America don't watch it is kind of sad. Plus there's a lot of time for commercial breaks so everyone can capitalize on it, you know," she joked. "I think it's great."
"I love it. I'm learning, she's teaching me," said Scott, a recruiter. "Once it catches on, I'm sure it'll take off."
Two New York brothers came with a friend who flew in especially from Toronto — all die-hard Pakistan fans and over the moon to watch their heroes Wasim Akram and Shoaib Akhtar
"He (Akram)'s been our national hero, he helped us win the '92 World Cup, so really excited to get to see him live in action," said Harris Chaudhry, 25, who works in financial services.
"Last time I went to a cricket match was maybe six, seven years ago so for me this is a big deal," said Toronto student Shakeel Haider.
But not everyone is convinced the game can catch on in the land of baseball, basketball and American football.
View the best moments from the match in the highlights below:
#WarnesWarriors may have won on the scoreboard but #cricket was the real winner here at @CitiField #CricketAllStars pic.twitter.com/ick8sbg7uA

— Cricket All Stars (@T20AllStars) November 7, 2015
Exciting finish coming up here at @CitiField – #warneswarriors need 20 off 23 balls #cricketallstars pic.twitter.com/W2MNavlgWs

— Cricket All Stars (@T20AllStars) November 7, 2015
With 6 wickets #WarnesWarriors win the first #CricketAllStars Match! pic.twitter.com/Obas63ANhe

— Cricket All Stars (@T20AllStars) November 7, 2015
With 7 runs to win with 18 balls. It's @sachin_rt's time to bowl pic.twitter.com/lkQ31bhkLQ

— Cricket All Stars (@T20AllStars) November 7, 2015
Exciting finish coming up here at @CitiField – #warneswarriors need 20 off 23 balls #cricketallstars pic.twitter.com/A0k598rT4L

— Cricket All Stars (@T20AllStars) November 7, 2015
37 runs needed off 42 balls remaining #CricketAllStars #WarnesWarriors #SachinsBlasters pic.twitter.com/hV1vvb3Ugo

— Cricket All Stars (@T20AllStars) November 7, 2015
Who said #cricket wouldn't work in America? #cricketallstars pic.twitter.com/zPfjkT7W2t

— Cricket All Stars (@T20AllStars) November 7, 2015
#CricketAllStars @MichaelVaughan & Shoaib Akhtar in the dug out pic.twitter.com/EPI74sZYIW

— Cricket All Stars (@T20AllStars) November 7, 2015