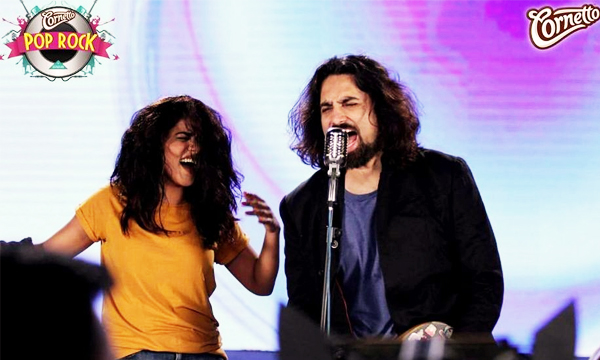 #CornettoPopRock has launched their third music video nation-wide! The catchy rock song #PYARWYAR sung by Quratulain Baloch (aka QB) ft. Noori is a funky yet melodious tune. Qurat ul Ain Baloch has written the lyrics herself.
Quratulain Balouch is widely known as one of the leading female singers in Pakistan. She has received many national awards over the years including Lux Style Award for Song of the year in 2012, Lux Style Awards for Best original track in 2012, Pakistan Media Awards 2012, Hum Awards in 2013 and Achievement Award in 2013.
The music video is directed by Amaan Ahmed from Uncutstudios while BeenishPervaz and Munib Nawaz  did the styling and wardrobe respectively. The concept of the video is developed by BB Events & PR and Empact Activations and has been beautifully brought to life by the directorial team at Uncut Studios.
QB said: "I am here at the #CornettoPopRock concert and I'm excited and nervous at the same time. I finally got to perform my original tracks for the first time. So thank you Cornetto for this opportunity."
Listen to the funky tune below:
Music for this song has been composed by BIY records. The song 'PYAR WYAR' is QB's first attempt at writing her own lyrics and composing her own melody.
Cornetto Pop Rock's Season 1 Song Desan Da Raja Feat. Komal Rizvi & Qurram Hussain
Ali Noor added, "after watching her write her own lyrics and be a part of the whole process, it is very clear that QB has the potential to be one of Pakistan's finest songwriters & we need platforms & initiatives like this one brought to us by Cornetto to surface the concert culture again." He Added 'What is very exciting about #CornettoPopRock is that it has actually supported our creative process to the fullest and that is something which is unique and rare. Because usually, brands just ask you make songs that they want but Cornetto gave us full creative freedom which is a big deal'"
Amaan Ahmed, the director of the video said:
'this song is all about emancipation and practicing the freedom to live and explore everything that the world has to offer. The fit of this song in all its lyrical genius is such a perfect marriage with Cornetto, as the brand too primarily focuses on youngsters daring to live and love and explore different avenues of freedom around them. I wanted this video to be hip, funky, colorful and loud, much like the pop rock composition of this song and the hip and happening feel of the brand. Cornetto and Pyar Wyar together felt like the best complimenting ingredients to a delicious video direction!'
Qurat-ul-Ain Balouch 'Saiyyan' Song Directed by Indian Director Mohit Suri
Stay tuned to Brandsynario for more updates.