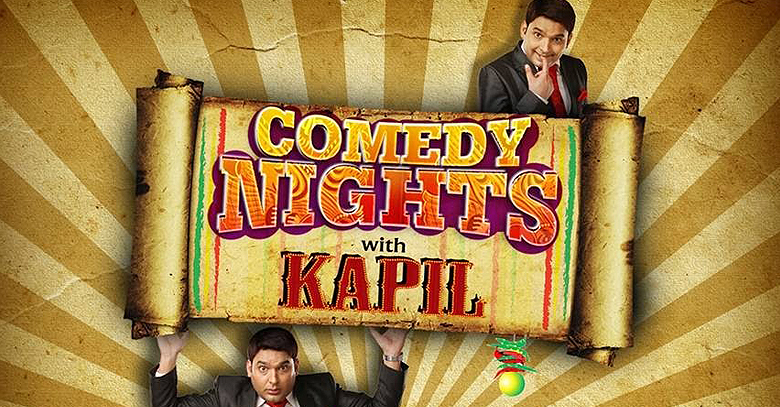 Basking in success and glory, India's number 1 comedy show "Comedy Nights with Kapil" tops the TRP (Target Rating Point) charts, outshining the ratings of Salman Khan's Big Boss and Amitabh Bachan's "Kon Banayga Corerpati"
Just within two months of the show's launch, Comedy Nights with Kapil became a US television's "Saturday Night Live" sensation for Indian TV screens, altogether redefining comedy and entertainment to a whole new level.
As per the Gross TVT's of Week 38, Comedy Nights with Kapil recorded 7,244, Kaun Banega Crorepati – 6,134 while Bigg Boss 7 got 54,56.
Now for the first time ever, KBC and Big Boss, both hosted by the big celebrities of Bollywood have bee whitewashed by none other than the comedian "Kapil".
But what is the reason behind Comedy Nights with Kapil's epic win that even Big Bachan's and Salman's charm failed in front of it?
What Makes Comedy Nights with Kapil Popular?
The show's flow and strategic format are flawless. All segments have their own fun and appeal, never failing to amuse the fans.
Humoring people is no piece of cake. In fact, it is considered as the most difficult form of entertainment. But every weekend, the "The Great Indian Laughter Challenge 3" champion Kapil Sharma effortlessly gives laughter attacks to its viewers, making them glued to the TV screens.
Other than the comedy master himself, the rib-tickling characters on the show keep the viewers engaged from the beginning to the end. The cute "Palak" and lively "Gutthi", two men dressed as women, gained immense popularity via the show. Both are brilliant with improvisation and their clowning around has always been the show-stealer.
However, Gutthi has now bid adieu to the comedy show and her retirement was a heartbreaking news to many of the viewers but such news fuel the gossip tank and give a fair leverage to the show through countless controversies and speculations
Not only Kapil's show has a huge fan following but immense celebrity following too. It is remarkably popular with Bollywood superstars who all turn up at his show to promote their upcoming movies.
From Bollywood king Shahrukh Khan to the heartthrob Hrithik Roshan, the sizzling Kareena Kapoor to the Bollywood's Desi girl Priyanka Chopra all turned up to the nation's most watched show to endorse their films. 
Above all this, the comedy night show has given the Indian audience something different from the usual rounds of over-romanticizing and villainy. Seemingly getting bored of Big Boss's scripted fights and drama; they are finding their solace in the whimsical and sidesplitting Comedy Nights with Kapil.