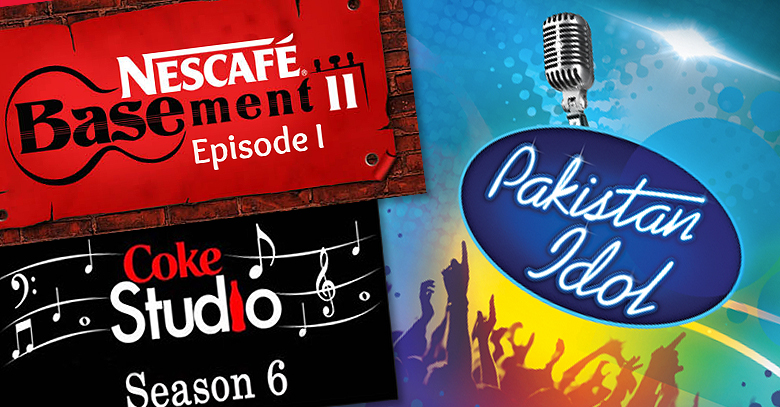 The success story of Coke Studio is not veiled from the mainstream media. Despite the presence of its orchestrated live performances, adorned by some of the best musicians of Pakistan, names like Nescafé Basement and now Pakistan Idol have acquired significant attention. This is an overwhelming achievement in itself.
Music lovers in Pakistan, or Pakistani music devotees all over the world, are in for a treat as the pioneering Coke Studio has been accompanied by two music shows sponsored by big brands – Nescafe Basement (Season 2) and the launch of Pakistan Idol.
Coke Studio has launched its sixth edition rather mundanely with a conventional number, 'Jogi' by Fariha Pervaiz. Critics and speculators seem less impressed by the outcome of the show.
Some critics even went out to say that Coke Studio seemed more like 'Coke Jam' because of the rough edges evident in the on-aired episode of Coke Studio season 6.
Let's now talk about Nescafe Basement, despite the sluggish start, last season, Nescafe basement promises so much more this time round. The second season has already seen 1300 interested candidates in contrast to first season's mere 98. This significant growth in participants might just indicate the increasing appreciation for the show.
With the exception of its intro-soundtrack, everything seems to be better than 'Season I' for Nescafe basement this season. The show has two inherited brand names to it, one obviously Nescafe and the other is 'Xulfi' from Pakistani transnational music band 'Call'. Xulfi's claim to fame was the popular Indian song "Laree Chuti." He is responsible for creating music for Nescafe Basement.
Nescafé Basement has the potential to give tough time to Coke Studio, unlike others who tried like Ufone Uth Records.
Amidst this 'leader-challenger' scenario, Pepsi-sponsored "Pakistan Idol" is soon to make its mark on national television, which also has an International brand name ('Idol') affiliated with it.
Therefore, Pakistan Idol can also be considered a potentially deadly competition for the current frontrunner 'Coke Studio' and emerging challenger 'Nescafe Basement'.
Whatever the case may be, it's a win-win for Pakistani music fan and in the longer run for, the potent yet still in its adolescence, Pakistan music-industry.