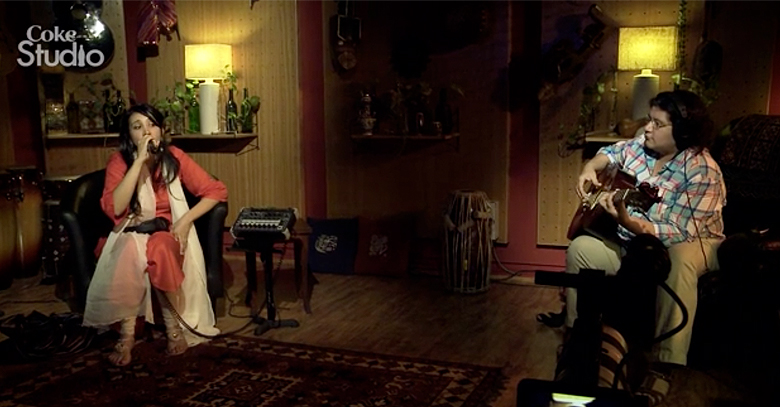 Coke Studio launched season 6 with 'Jogi' and follows it up with the next single 'laili Jan' by Zeb & Haniya. 
The dark and crimson Pakistani music exhibition, Coke Studio, is back for its sixth addition. Famous for its live instruments and one-take symphonies that takes hours of jamming sessions, Coke Studio may have been late this year but it is surely making the wait worth it on all the mediums; Television channels, radio stations and online all across Pakistan.
Specific sessional performances from Coke Studio Season 6 are to be released as singles while complete sessions will be available online and broadcasted in the traditional Coke Studio episode format from 27th October 2013.
Releasing 'Singles' disjointedly and official promotion on their social media, are some of the latest additions in Coke Studio. Speculators believe that promotion will help the brand to integrate further into the masses.
"Laili Jaan" is a song that first took the world of Afghan Pop by storm in the 1970's, by a man who is considered the King of Afghan music, Ahmad Zahir. While Afghanistan is known for its wealth of heritage music, Zahir contributed towards creating a legacy of Pop and Rock music that mirrored Elvis Presley, which led him to be regarded as the 'Elvis of Afghanistan'.
The song talks about heartbreak and represents the tragedy of love lost with a comical tinge.
Zeb & Haniya perform the song as an ode to Ahmad Zahir as well as reimagining the composition through the female perspective of a song sung by a man.
The song is reminiscent of a time where the rich tunes of Afghan music prevailed in various parts of the world and were part of growing up in cities like Peshawar – something Zeb & Haniya remember fondly from their childhood.
Today, the duo bring to the song a gypsy feel that is complemented by the instrumentation by L'Orchestra di Piazza Vittorio – a modern sound that meets the tone of rhythm and blues with an added layer of jazz.
Coke Studio in six years of its existence has created an influential brand name. One can check Coke Studio's website for latest updates.