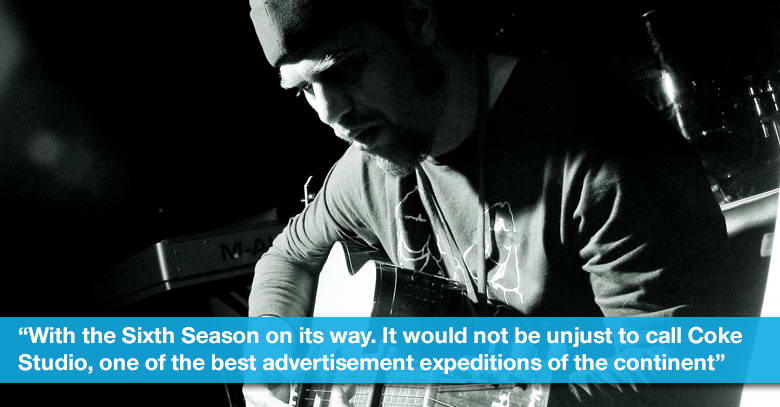 What's the first thing that comes to mind when one says, Coke Studio? Well, the person who thinks of Coca Cola wins. But what is the second thing then? It's that shadowy crimson ambiance, where for the last half a decade some of the finest music of the country has been performed by some of the finest looking and sounding musicians of the country.
As the Sixth edition of Coke Studio will be launched in October 2013, critics can only sit in awe of the undying success of the show.
A MUSICAL HISTORY
After fading away of Vital Signs and most of Junoon in the following couple of years; Pakistani Music seemed to have been heading to an uncertain future.
Despite the remarkable emergence of Strings, Noori and later EP, the country seemed to have been missing that 'stimulus' – like Jazba Junoon or Sayooni of Junoon or Dil Dil Pakistan of Vital Signs – that would get the nation up on their feet.
Singers like Atif Aslam and Ali Zafar have made their mark both as nation's heartthrobs and International Rockstars, but seldom are considered now to be equally fine musicians.
COKE STUDIO – A NEW CHAPTER
Coke studio became the subsequent chapter in the evolution of music for the country in 2008. Many believed it to be just another innovative branding opportunity, by Coca-Cola, that will turn into an obnoxious sell-out, where focus on music would always be the least of priorities.
Coke Studio managed to silence almost all of those voices during its five seasons.
Coke associated its brand name with music wisely, choosing Rohail Hyatt – the country's oldest lone ranger of music who has been there since the very start. Little do people realize that he is the same person also founded 'Vital Signs' the band, composed 'Dil Dil Pakistan', composed the music of Internationally recognized movie 'Khuda Kay Liye' and so on.
Hyatt also owns a multimillion dollar company by the name of Pyramid Records.
Rohail Hyatt and Coca-Cola together have made Coke Studio similar to a record label, where he has recruited some of the most famous and most talented (hardly ever the same) musicians to perform with live orchestra.
The output is an energetic performance and refreshing new compositions every time. Well, almost every time.
CRITICS SAY…
Critics say that Coke studio is stuck in a rut, trying to sell their previous hits in some new packaging. If truth be told, in five seasons, monotony is more or less inevitable to settle in.
To be fair, after Junoon and Nusrat Fateh Ali Khan seldom has any musician be bold enough to experiment with music genres consistently, let alone match the excellence NFAK and Junoon achieved. Coke Studio, if nothing more, has enabled musicians to dare and experiment.
Rahet Fateh and Atif Aslam are primarily singing for Bollywood – that is as commercial as one can get – and yet Coke Studio has given them a platform to experiment with their genres, resulting in Charkha Nau'lakha and other mesmerizing hits.
Also, collaborations like Ali Azmat and Rahet Fateh Ali Khan, Meesha Shafi and Arif Lohar, has now made the show one of the biggest music sensation across Asia. An example of which is an Indian adaptation of the show, named Coke Studio @Mtv, which is set to run its third season soon.
With the conclusion of fifth season, coke studio is an undeniably enormous success. With their social media followers reaching to almost 2 million, and more than 20 TV channels bidding for the broadcast of the show, the advertisement of Coke and the brand's leverage can only be speculated.
It would not be unjust to call Coke Studio, one of the best advertisement expeditions of the continent.