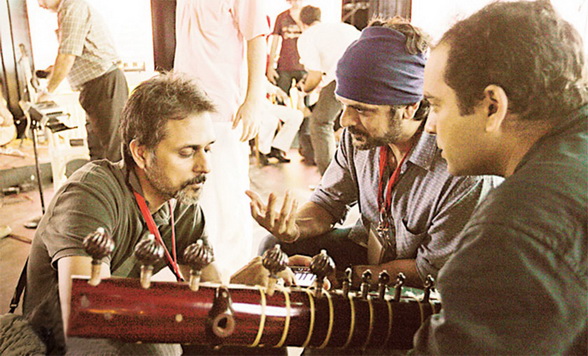 Fasial Kapadia and Bilal Maqsood aka Strings have officially taken control of Coke Studio, and will take charge of office from Season 7, which is to be aired soon.
Rohail Hyatt, the creator of Coke Studio, a contemporary empire of Music that has brought national & international fame & recognition to Pakistan by becoming the touchstone inspiring similar shows all around the globe, like Coke Studio India – an adaptation of its Pakistani ancestor.
Yes, the country's biggest band has taken over the country's biggest music show.
In an interview to a local news website, Bilal and Faisal, discussed their views on Coke Studio as a franchise – the music scenario of Pakistan on the whole and all that can be done to better that scenario.
Naturally, the elephant in the room was; 'Did Strings Agree with Rohail Hyatt's Approach to Work? How are Strings relations with Hyatt back then and now as they have replaced him as the caretakers of the show?'
Strings replied, more diplomatically than one would like – They said,
"We had no idea how Rohail Hyatt operated around here. In the first two seasons of Coke Studio, that we performed, our interaction was restricted to only our performances.
We remember that in the first season, we weren't thrilled by the provided arrangement and requested Rohail if we could jam with our own musicians, our own band. It was just such a generous reaction on Rohail's part as he let us play with our band, as we now look at it knowing how things work in CS for months now, if someone comes in and wants to bring in their own band, we may not agree. Rohail said yes, without even showing how distressful it must've been for him, but apart from that we didn't know what else he did or how he ran the show. We came here and made our own system".
According to Strings, ever since its inception back in 2008, Coke Studio has been a trend setter not only in Pakistan but on the other side of the border. India and Pakistan drenched in the crimson feel of the dark lighted Coke studio, echoing within are the voices of Abida Parveen, Noori, Rahat Fateh, Strings, EP, Bohemia, Zeb & Haniya, Hadiqa Kayani, Misha Shafi, Sajjad Ali, Bilal Khan, Atif Aslam & Ali Zafar along with Zoe Viccaji.
Upon discussing the music industry of the country, both men seemed convinced that the investment required producing a musical piece with a video is incomparable when it comes to the monetary returns it harvests. However, Strings seemed optimistic about the future of Pakistani music industry.
As for the fate of Coke Studio, it seems to be in safe hands. Strings has unparalleled experience to their name when it comes to music. When they were asked how they feel upon getting the chance to host Coke Studio, the duo commented; "We have had planned something like a World Tour for Strings or perhaps a record but when Coke Studio fell into our lap, it seemed like the perfect opportunity to contribute and give back whatever we have learned."