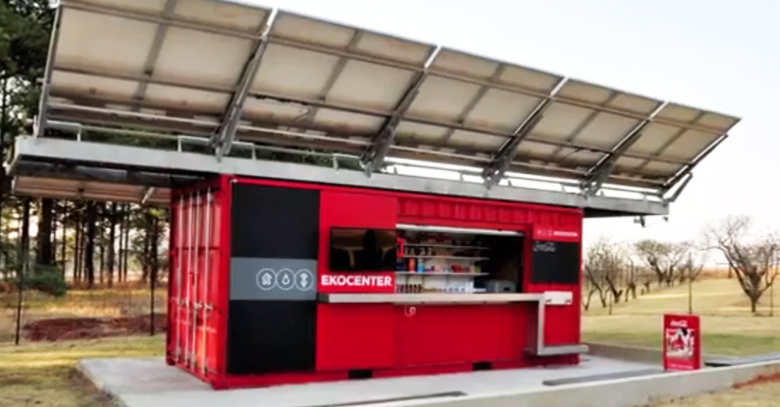 By Hassan Wasti
While people living in metropolitan areas have access to clean water, food, electricity, and Wifi, there are parts of the world where such things are considered luxuries, but Coca-Cola is hoping to change that with small shop setups called Ekocenters.
The recent CSR initiative, which went viral as a video, features this new project of Coke and shows just how much work and dedication has been put into making this into something that will now function on a global scale.
The Ekocenters are Coca-Cola's recent gift to the under developed communities: a transformed shipping container powered through solar panels.
It is a modularly designed kiosk, with 'slingshot' technology at its core, which offers clean, safe drinking water, alongside other services, such as wireless communication, electricity, vaccination storage, and tailored to address other community needs.
The unit strives to help communities flourish by allowing each and every community member from using it, to the local entrepreneur operating it.
The most highlighted feature of the modular Ekocenter structure is the Slingshot water purification system. Unavailability of fresh clean drinking water is directly linked to thousands of deaths in poor and rural communities each year.
Offering a place in the centre of town where residents can come to access clean water is a life-changing idea.
"EKOCENTER represents an investment in the future prosperity and progress of some of the most fragile and at-risk communities we serve," said Muhtar Kent, Chairman and CEO, The Coca-Cola Company.
"Through EKOCENTER we have the ability to change lives by offering access to safe drinking water and other needed resources, all while empowering local entrepreneurs. What started as an aspiration is now becoming a reality as we welcome our partners across the golden triangle of business, government and civil society to scale and improve this innovation."
Interestingly enough, Kent plans to run each Ekocenter by women with the hope of empowering them through entrepreneurship and employment opportunities.
The project is in collaboration with UPS, IBM, DEKA, QUALCOMM, McCANN and TechnoServe. The project is expected to be set up anywhere between 1,500 to 2,000 Ekocenters in 20 countries, covering regions such as Africa, Asia, North America, and Latin America by the end of 2015.
With the least cost amounting to $100,000 to build one Ekocenter, Coca-Cola looks committed to its cause of helping the people in underdeveloped communities against all odds and expenses.