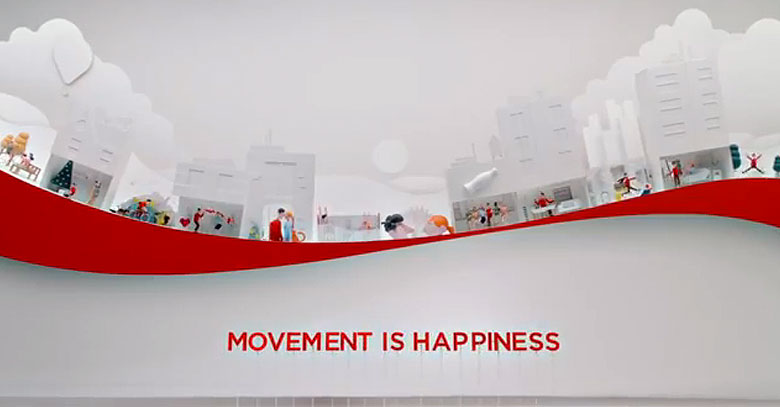 In an attempt to promote active lifestyle and fight obesity, Coke came up with advertising which revolves around the idea that 'happiness is movement'.
Produced by Johnny Kelly, the new coke ad is an attempt to promote an active lifestyle and combating obesity in the lives of people while continuing use of Coke.
Kelly wants to give out a message that you can be active and healthy while consuming Coke because Coke is the beverage which makes you happy and what is an active lifestyle without happiness?
The ad revolves around moving, plastic puppets, showing the life of a human being. These puppets begin moving from birth and showing the passage of life in the video.
The tagline gives the message to the audience, narrating the importance of being on the move, bringing to you the best moments of your life.
Coke has been actively participating in its quest for promoting a healthy lifestyle. Despite the brand being questioned for the health problems caused by soda beverage consumption, Coke is looking to improve its role to spread awareness regarding obesity.
Previously, Coke launched another campaign where it showed how you can live a similar life as your grandparent and stay healthy.
Under its recent 'rush' towards health-conscious campaigning, Coke might be able to gain back the customers it lost due to the unhealthy ingredients in fizzy drinks.