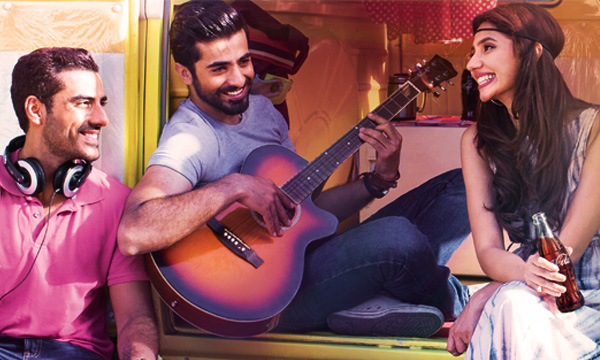 Coca-Cola has partnered with the 'musical blockbuster of the year' Ho Mann Jahaan to create a fun-filled ad, starring the stunning starlet Mahira Khan and the handsome heartthrobs Adeel Hussain and Sheheryar Munawar. Watch the ad below:
[fb_embed_post href="https://www.facebook.com/1527753387475028/videos/1644677805782585//" width="550″/]
The ad features clips from the movie, centered around the little things that  make us happy and of course, how Coca-Cola is always there celebrating your happiness.
With the befitting tagline 'Ho Mann Jahaan, Khulain Khushian Wahan', Coke showcases the fun side of university life and friendship.
The ad shows that we can expect to see Coca-Cola heavily branded throughout the movie. A cover of Nazia Hassan's 'Chalti Rehti Hai Dosti' can also be heard in the background.
Watch the trailer here: Mahira Khan Starrer Ho Mann Jahan Trailer Released – Watch Video
Ho Mann Jahaan is all set to release on New Year's Day i.e. 1st January 2015. Promising a fun and frolic flick, the plot has a whiff of a deep message and a dash of a profound story line.
Read More: Pakistani Movie Ho Mann Jahaan Poster & Release Date Revealed
The trio is also seen performing on what looks suspiciously like a Coke Studio set.
What do you think of Ho Mann Jahaan? Let us know in the comments below!