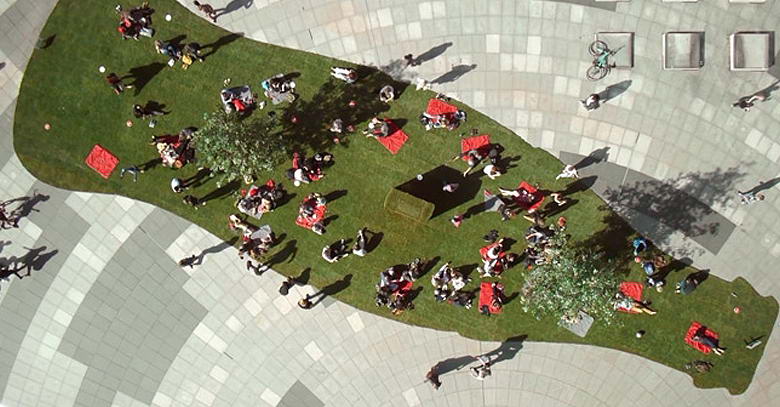 By Ufaq Ashfaque
Coca Cola launched yet another exciting new outdoor activation, promoting their 'roll out happiness' campaign in Amsterdam. The campaign was launched by agency Wieden + Kennedy Amsterdam color to the 'gray' life that we have these days.
The ad was set out as a "pop-up park", where Coca Cola set out a green grass, shaped as a bottle of Coke, on grey pavement. A Coke vending machine was laid out; as soon as the machine senses bare feet, the vending machine gives a free Coke bottle. People were fascinated by the idea of having to take a break and enjoy some peaceful time.
These marketing activities have nothing to do with monetary gains; the brand has gone far beyond the concept of earning money and has grown to become a personal brand for each of its customers.
Christy Amador, Global Digital Brand Strategist at Coca Cola, says,'this is one of my favorite "Where Will Happiness Strike Next?" executions. The concept is so simple, yet uplifting – It perfectly demonstrates our strategy – and you can't help but smile as you watch it.'
The idea of having a pop-up park not only is appealing, Coke is educating the public about the significance, the value of human relationships and how constructively does it add to the society.
Previously, the brand launched their "green" coke in Argentina, as part of their CSR initiative. The idea was to educate the Argentinean audience about their responsibility towards Coke, saving up on their consumption and maintaining a healthy lifestyle.
Also, as part of their anti-obesity campaign, Coca Cola launched their herbal drink called Habu for the first time in Thailand. Made out of four major ingredients Roselle, licorice, Luo han guo and cogon glass, Habu is set to reduce cholesterol and monitor fat accumulation in the human system, along with strengthening a person's immunity.
With Coke having a track record of successful campaigns, further initiatives and "roll-outs" and anticipated, in order for it to excel further.