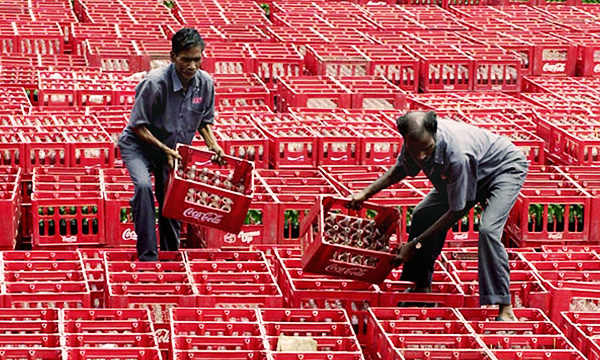 Coca-Cola has halted manufacturing at 3 plants in India temporarily on lower sales, company officials said Thursday, as the US giant faces challenges from activists over alleged depletion of groundwater.
Nearly 300 people work at the three plants in the states of Andhra Pradesh, Meghalaya and Rajasthan, where activists have waged a more than decade-long battle against the fizzy drinks company.
"Manufacturing at three units have been temporarily suspended," Kalyan Rajan, spokesman for Hindustan Coca-Cola Beverages, which bottles drinks in India for the US giant.
Fifty four plants produce fizzy drinks in India for Coca-Cola, which had been eyeing expansion in the world's second most populous country where income levels are rising.
"For some time the market has not been good for the beverage industry in India owing to multiple factors," Kamlesh Sharma, spokesman for Coca-Cola India, a subsidiary of the giant, told AFP.
Sharma said the factory in Kaladera in Rajasthan did not close because of activism. And he denied the plant had depleted the water table, saying it tapped only a small share.
The company has faced strong resistance in Kaladera from groups who say it has diverted already scarce water meant for farmers and their fields.
"There is no water in Kaladera. We have to dig 400 to 500 feet (122 to 152 metres) to get water. Two decades ago it was 100 feet," Mahesh Yogi, of local activist group Kaladera Sangharsh Samiti, told AFP.
The Atlanta-based company, which has said it plans to invest $5 billion in India by 2020, has faced a string of objections over the years from local communities over water use. In 2004, the company shut one of its plants in southern Kerala state over similar allegations. The company denies any wrongdoing.
Last year it dropped plans to open a new bottling plant in southern Tamil Nadu state over protests by locals who also claimed it would rob them of groundwater.
In 2014, it scrapped expansion of an existing plant in northern Uttar Pradesh state after authorities denied permission on local protests.