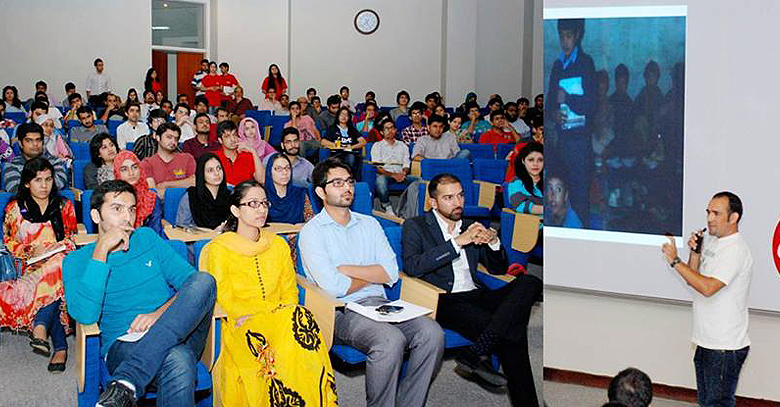 The World's largest beverage company Coca Cola initiated EMPOWER – The Coca-Cola Lecture Series in Pakistan.
EMPOWER is an innovative programme launched by Coca-Cola Pakistan to provide extra-curricular learning, to university-goingl youth of the country, through inspirational talks delivered by experts from various fields.
The inaugral lecture of the Coca-Cola EMPOWER programme will be followed by regular sessions at several other leading universities of Pakistan, covering topics such as marketing, HR, CSR and self-discovery.
"EMPOWER is our latest CSR initiative that seeks to understand the issues our youth is facing, especially those relating to their personality development and career path, and provide the youth with expert guidance through a series of thought-provoking talks, by people who have overcome tough challenges to achieve heights in their respective fields," Rizwan U. Khan, General Manager, The Coca-Cola Export Corporation, Pakistan and Afghanistan, stated regarding the program.
The lectures will be delivered both by senior executives of Coca-Cola and by external subject specialists, engaged by Coca-Cola for the programme.
Renowned mountaineer Mirza Ali conducted the inaugural session named 'No Mountain Too High' where he spoke about his experiences and the countless challenges he had to face in order achieve his goals.
Mirza Ali climbed his first peak at the age of just 16 and then went on to climb some of the highest and toughest mountains in the northern areas of Pakistan.
Mirza came into the limelight when he accompanied Samina Baig, the first Pakistani women to climb Mount Everst all the way to her historic journey.
In a powerful message for women empowerment, Mirza stopped just short of the final summit itself in order to allow Samina to reach the top of the moutain independently.