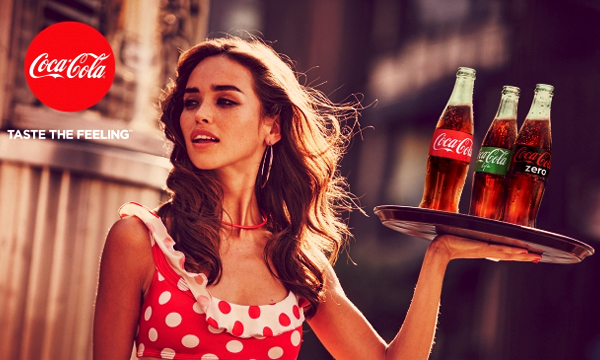 In a surprising strategic move, Coca-Cola, the globally loved beverage company opted for a different positioning.
It has discarded it's previous positioning 'Open Happiness' and has shifted to a more unified umbrella positioning of 'Taste the Feeling' for all of their products including Coca-Cola Light, Diet Coca Cola,  Coca Cola Life and Coca-Cola Zero.
'Open Happiness' had been Coca Cola's slogan for the past 7 years with which the consumers had come to identify coke with.
There are 4 agencies which have worked together to create the initial 10 TV advertising spots as well as the print and out-of-home ads which include Mercado-McCann, Santo, Sra. Rushmore and Oglivy. Coke has also disclosed that six other agencies will work on the campaign as it is taken forward.
Take a look at the print and out-of-home ads that have been created:
The new slogan 'Taste the Feeling' however, indicates not only the emotional but the functional facet of the entire line of products under Coca Cola's banner.
Take a look at the 3 of the 6 TV Spots that are just launched as part of the campaign:
The slogan 'Taste the Feeling' conveys that Coca-Cola – any variant per se – chosen by the consumer will only enhance their little joys of life.
According to Marco de Quinto, Chief Marketing Officer for Coca-Cola said at the press event in Paris, "We are reinforcing that Coca-Cola is for everybody. Coca-Cola is one brand with different variants, all of which share the same values and visual iconography. People want their Coca-Cola in different ways, but whichever one they want, they want a Coca-Cola brand with great taste and refreshment."
Quinto also added, "We've found over time that the more we position Coca-Cola as an icon, the smaller we become. The bigness of Coca-Cola resides in the fact that it's a simple pleasure – so the humbler we are, the bigger we are. We want to help remind people why they love the product as much as they love the brand."
"We're going from 'Open Happiness' to exploring the role Coca-Cola plays in happiness," he further commented. "We make simple, everyday moments more special."
Coke lovers around the world will be witnessing a 360 degree integrated campaign popping up throughout this year.