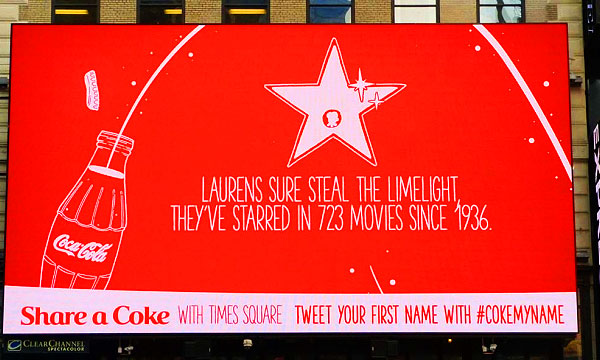 After the success of Coke Zero's clever drinkable billboards, Coke has come up with yet another interactive billboard campaign, taking Out of Home advertising to the next level altogether.
#CokeMyName is a new campaign which is built off from Coke's name-obsessed "Share a Coke" campaign. This new campaign shares fun and rare facts about the people's names.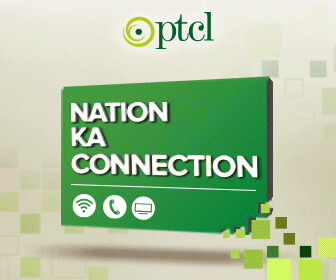 Read More: Coke Zero Brings 'Drinkable' Billboard In Indiana, USA
The outdoor billboard in Times Square displays a handful of information, after a person tweets their name with the Hashtag 'cokemyname', out of a digital coke bottle and remains on the screen for a few minutes.
At the bottom of this is a microsite that Coke and Google created together to gather fun facts about the 1,000 names that the soda company printed on its cans and bottles last summers for the Share a Coke campaign.
For example, people named Ben learned that the name has starred in 1,618 movies since 1986. Also, 2 percent of the world's Katies write stories for a living, according to Google's data.
Clear Channel Outdoor was appointed by Coke to build this campaign which was activated through Twitter. According to Clear Channel Outdoor, once someone fired off a tagged tweet, it is displayed on the screen for a few minutes. Moreover, there is a webcam set up across the street that automatically snaps a picture of the person's name displaying on the billboard and the picture is tweeted back to that person within an hour.
The idea is fairly simple, the person does not have to be at the Times Square, New York to witness it and this would also mean that Coke aims to target the masses.
"That potentially then seeds more social sharing amongst your Twitter followers [and] social impressions," said Sean McCaffrey, Clear Channel Outdoors's Senior Vice President of national client strategy and partnerships. "It's the interesting convergence of the mobile, digital and physical worlds."
This activation, which has been up for nearly two weeks, has already served up roughly 200 custom messages per day, with the billboard being the only promotional media.
Take a look at some of the tweets:
@stklmsyndrome you made it on to the big screen! 🙂 #cokemyname pic.twitter.com/VH8WDPwiDp

— Coca-Cola (@CocaCola) July 8, 2015
@snpbcknjh here's your name in lights! Enjoy 🙂 #cokemyname pic.twitter.com/07TF4FIvCH

— Coca-Cola (@CocaCola) July 8, 2015
@campsu01 here's your name in lights! Enjoy 🙂 #cokemyname pic.twitter.com/mYFa0kE80h

— Coca-Cola (@CocaCola) July 8, 2015
Last year's campaign, where people's name lighted up a board was a part of a simpler experiential component. However, Clear Channel Outdoor says that this year's campaign is contrasting and a way forward.
"[It's] a really interesting use case for us that we've been trying to show advertisers for the last several years on how to create and use this platform that we're building," McCaffrey said.
Coca-Cola has always stirred the market with their new, innovative and interactive marketing campaigns. Are you ready to find out some rare facts about your name? Tweet away!