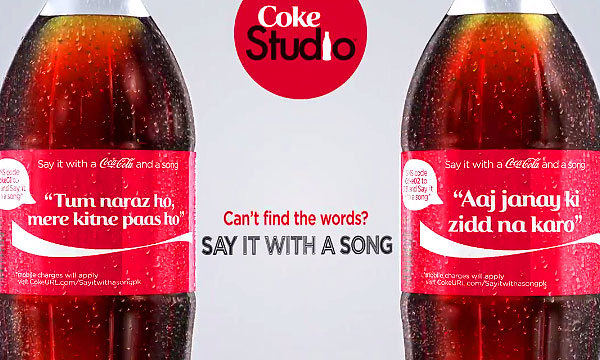 As part of their iconic move, Coca-Cola has come up with another brilliant concept of sharing bottles with famous song names written on them. Conceptualized by Soho Square, this fun-filled advert is infused with the catchiest of beats from the Pakistani music industry. A preppy, youthful, celebratory TVC which is taking back Coca-Cola to its original global positioning. Take a look at the spot here:
[fb_embed_post href="https://www.facebook.com/1527753387475028/videos/1632933103623722/?video_source=pages_finch_trailer/" width="550″/]
Say It With a Song TVC 2015 for Coca-Cola is also introducing this unique concept of what one can do when you can't find the right words.
With the advent of Pakistan's Coke Studio venture, it was without a doubt a very clever branding move to integrate the musical element of the cold drink's branding to the actual product itself. The Coke Studio project is well in its way in the 8th season as of now and has been churning out one hit after another. Famous songs on bottles Coke now include Suno K Main Hoon Jawan, Wohi Tau Tha Humara Pehla Pyaar, Sar Kiye Yeh Pahaar and Tum Naraaz Hu.
Read More: Top 10 Coke Studio Songs of All Time