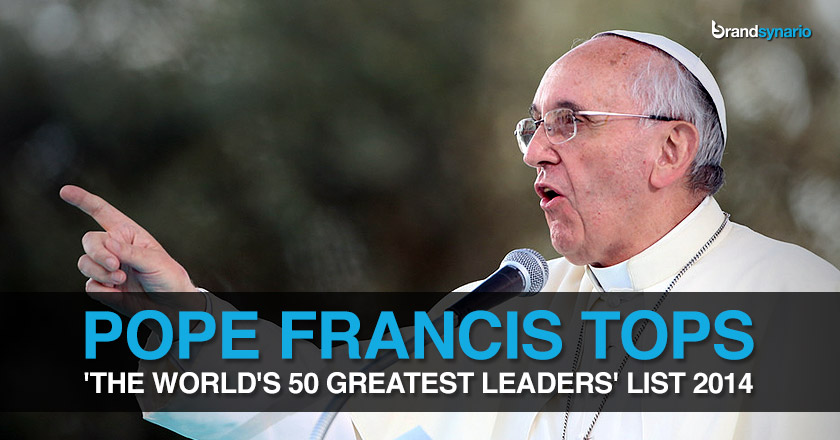 CNN recently published the list for world's "50 Great Leaders", highlighting the top 50 inspirational figures from all walks of life.
Our world has witnessed many great leaders over the years, yet there are just a few who are well-remembered globally. These few are no different from others, but the only point of differentiation is "who tries to play his part" and "who plays the blame game".
At the top of the list is Pope Francis, who leads a population of 1.2 billion Roman Catholics all around the world. Pope Francis, in his late 70's now, was crowned as the pope for Catholic Church last year; since then he has made his name even amongst many non-Catholics around the world.
Angelina Jolie, the famous Hollywood actress who also made it to the list on 21st rank has been associated with UN since 2000. Angelina started to play her role as humanitarian, serving many as she travels from country to country while visiting places like Syria, Iraq and Pakistan.
U.K's Foreign Secretary, William Hague who has also worked with Jolie during her humanitarian efforts, admires her in these words:
"Angelina Jolie represents a new type of leadership in the 21st century"
As the list goes on, we spot the brave Pakistani youth icon Malala Yousafzai on 34th rank. The young lady, 16 at present, is one of the youngest leaders in the world.
5 years ago, Malala stood up against the fearsome Talibans and suffered a bullet head injury. Since then, there has been no stopping her. This bold young lady has become a symbolic icon of inspiration for many around the world, bringing them hope and desire for education.
As we continue to progress down, we come across a well-deserved name at 40th rank, i.e. of Anand Mahindra, the owner of Mahindra & Mahindra group, who operates in one of the most heavily populated and corrupted countries of the world, i.e. India.
The Corporate world of India is ruled by only a handful of affluent families is a very tough place for honest people to be in. Mahindra has not only established Mahindra & Mahindra group fairly within this corruption but he has also integrated honesty to the deepest roots of his company.
An act that has taken 58 years of his life to get accomplished to the point at which Mahindra & Mahindra group stands today.
A complete list of these 50 greatest people by CNN can be found below:
1. Pope Francis
2. Angela Markel
3. Alan Mulally
4. Warren Buffett
5. Bill Clinton
6. Aung San Suu Kyi
7. Gen. Joe Dunford
8. Bono
9. Dalai Lama
10. Jeff Bezos
11. Derek Jeter
12. Geoffrey Canada
13. Christine Lagarde
14. Paul Polman
15. Michael Bloomberg
16. Jack Ma
17. Maria Klawe
18. Ken Chenault
19. Kathy Giusti
20. It's a Tie: Mike Krzyzewski, Gregg Popovich, Dawn Staley
21. Angelina Jolie
22. Zhang Ruimin
23. Carlos Ghosn
24. Gabrielle Giffords
25. Wendy Kopp
26. Fred Smith
27. Juliet V. Garcia
28. Mary Robinson
29. Howard Schultz
30. Jose Antonio Abreu
31. Ellen Kullman
32. Sir Fazle Hasan Abed
33. Tim Cook
34. Malala Yousafzai
35. Strive Masiyiwa
36. George Kennedy
37. Joko Widodo
38. Eric Greitens
39. Wynton Marsalis
40. Anand Mahindra
41. Nancy Lublin
42. Susan Wojcicki
43. Peter Diamandis
44. Tetiana Chornovol
45. Arati Prabhakar
46. Xavier Trias
47. Juliana Rotich
48. Lakshmi Mittal
49. Gail Kelly
50. Jed Rakoff
All these leaders have achieved many great things in their lives and irrespective of their cast, creed or color they all deserve one thing, i.e. "RESPECT".