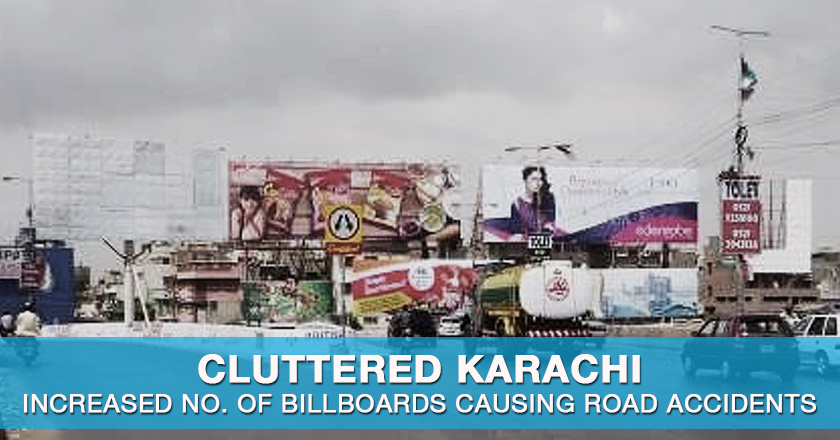 Since the beginning of the year 2014, the number of billboards installed in Karachi has increased by 30% causing an imminent increase in number of accidents and the danger to human lives.
According to today's Jung newspaper, there has been a significant increase in the number of permission applications to the KMC Advertisement Department, for installing signboards at the central medians of the main streets of Karachi.
However, the advertisers are failing to comply with the certain rules of putting up signboards, including the minimum distance required between two consecutive boards and the minimum height necessary of the billboard.
This failure to comply with the minimum requirements of installing signboards is resulting in an increased number of accidents on main streets like Tariq road, where it is usually crowded with barely any space to drive.
The central median on Tariq road is only 2.5 ft. wide while the signboards placed on it are 4 x 6 in size. Similarly, the billboards put up at National Stadium flyover, Shaheed-e-Millat road, Gulshan-e-Iqbal and Federal B Area are way bigger in size than the space available. The fact that these signboards extend beyond footpaths and central medians and are staged at a very low height increases the chances of cars crashing into them during rush hours.
PICTURE: [Shahra-e-Faisal Metropole, Karachi]
Even the cantonment area is overflowing with oversized signboards without any regard for pedestrians or traffic.
Despite knowing the entire situation and increasing number of accidents, the officials at KMC remain quiet on the subject. Furthermore, reports suggest that the departmental heads, administrators and metropolitan commissioners of KMC's orders are not taken into consideration while approving the signboard permission applications.
On the other hand, in spite of the increasing number of signboards, KMC reports that the revenue of the local tax department has reduced from 6 to 7 crores per month to 2.5 to 3 crores.
PICTURE: [Rashid Minhnas Road Opposite Millennium Mall, Karachi]
According to Mediatrack, OOH industry grabs only 8% of annual media spending in Pakistan.
Regardless of the increasing number of accidents, officials have failed to take notice or take action against advertisers. If the trend remains so, there will be no space on the footpaths or central medians left open.