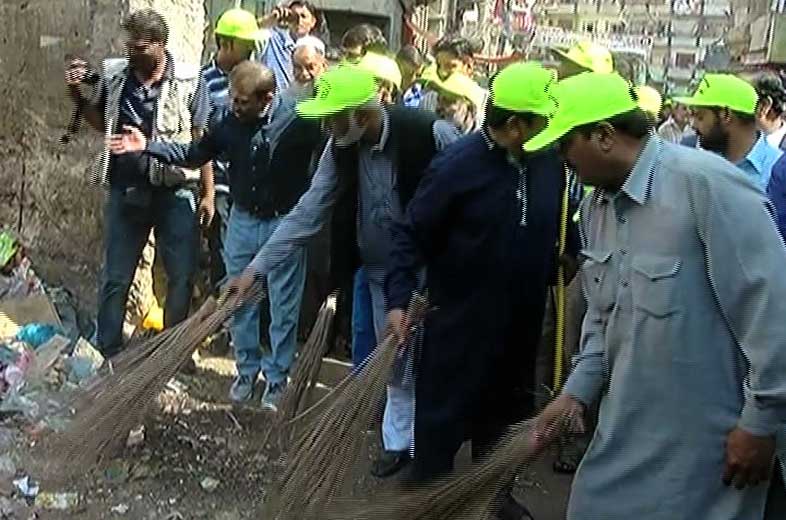 The Clean Karachi Campaign has commenced today. The cleanliness drive aims to rid the city from garbage and other evils. Political party leader Farooq Sattar officially started the campaign by sweeping a road in Kharadar area.
It will currently focus on five major towns including Lines Area, North Nazimabad, Orangi Town, Malir Town and Ranchor Line.
According to Sattar, the cleanliness drive has begun on the directives of its party head and all possible resources will be utilized to remove heaps of garbage from every part of the city.
 "We are launching a cleanliness campaign from March 10 on the instructions of party Chief Altaf Hussain," he said at a press conference, adding that party workers, councilors, chairmen and lawmakers would participate in the "I own Karachi" campaign.
Sattar also affirmed that the drive will also focus on covering manholes and planting trees, besides removing the waste from the metropolis. A similar campaign will soon be launched in Hyderabad and Mirpurkhas.
"The cleaning campaign can last for more than a month, and we do not want to limit it. We will continue this campaign till our mayor-designate Waseem Akhtar takes his oath and assumes his responsibilities," stated Sattar.
Before the campaign would begin officially, the political party's nominated mayor Waseem Akhtar criticized the PPP-led Sindh government for creating obstacles in its path. Akhter claimed that the Sindh government neither wanted Karachi to make progress nor its citizens happy.
Farooq Sattar also invited the #FixIt campaign leader Alamgir Khan to join them in this cleanliness drive. Watch Alamgir's reply below: