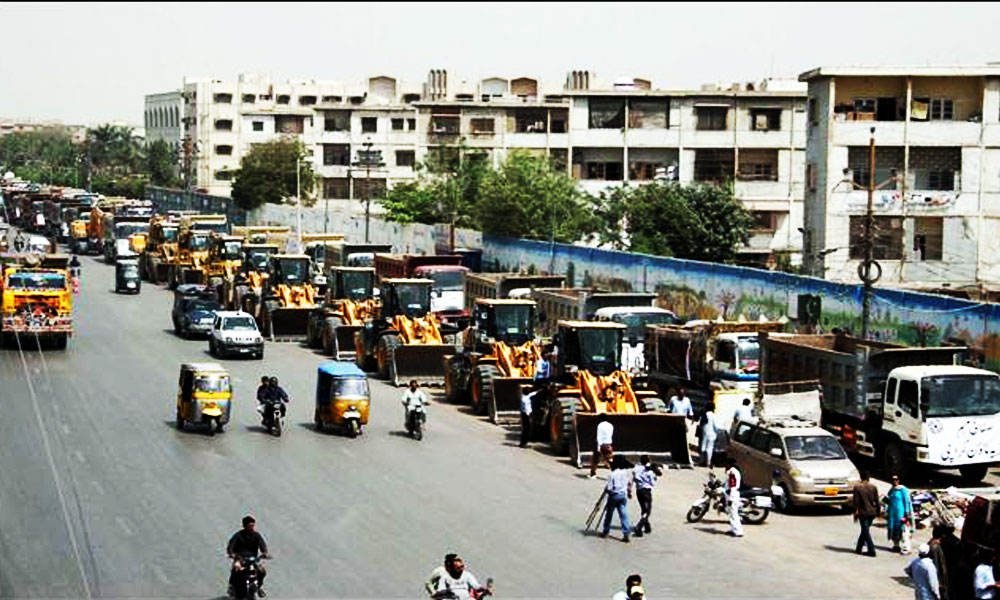 Update: Malik Riaz's Bahria Town vowed to start a campaign titled 'Clean Karachi'. The campaign has now started and has entered its first phase. The program was inaugurated at DMC Central in Karachi.
MNA Kanwar Naveed Jameel, MPA Jamal Ahmed, Azeem Farooqui, Mehfooz Yar Khan, Wasim Qureishi, DMC Central Chairman Rehan Hashmi, Vice Chairman Shakir Ali and others were also present on this occasion.
Bahria Town COO Admiral Ahmed Hayat in his address said the "Clean Karachi Campaign" was a part of its policy of developing a better Pakistan and also a sign of Bahria town's resolve.
According to DMC Central Chairman, Rehan Hashmi said that 17 dumping points have been pinpointed for this campaign. With the help of around 100 vehicles, the campaign will be carried throughout and has also become an important policy of Bahria Town for a prosperous Pakistan.
---
To embark on Bahria Town's new campaign 'Clean Karachi' Malik Riaz has said that the garbage will be clean without any cost, and he added that it is the government's job to continue these efforts.
Bahria Town Chief Executive Malik Riaz Hussain has taken things into his own hands as the government seems to have failed in running successful campaigns to clean the hub city. Riaz has also added that this campaign has no political motive behind it.
Clean Karachi Campaign: Malik Riaz Signs 10 Billion Agreement!
He further mentioned that Bahria Town will deploy its own heavy duty machinery to help make this campaign successful. The campaign has officially started from Monday, March 13, after mutual ground was approached by both Bahria Town Chairman Malik Riaz and Sindh Chief Minister Murad Ali Shah recently.
Malik Riaz continued that along time, the pace of the campaign will pick up the pace and will work more effectively while also being more efficient. Spokesman of Bahria Town Zain Malik said that talks were held with the Sindh CM who had directed him to start garbage lifting from Karachi's central district because it was MQM's stronghold.
Stay tuned to Brandsynario for more news and updates.