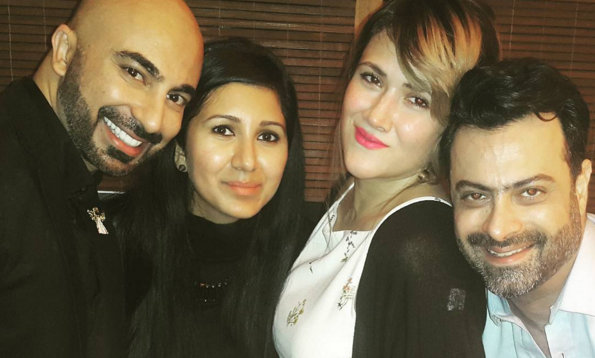 Spreading the festive spirit of Christmas 2015, we have compiled a list of our favorite Pakistani celebrities and how they celebrated their Christmas and winter holidays.
Have a look here!
Hamza Ali Abbasi shared a peaceful status to wish fellow Christians in Pakistan. 
[fb_embed_post href="https://www.facebook.com/permalink.php?story_fbid=1006946736035667&id=182248258505523/" width="550″/]
The epitome of beauty and the ever gorgeous,  Mahira Khan wished her fans Christmas by sharing a video with the jingle bells tune on tabla and sitar.  She is a true desi at heart.
[fb_embed_post href="https://www.facebook.com/TheMahiraKhanOfficial/videos/1672830636327331/?theater"/]
Two adorably hot guys Farhan Saeed and Asim Jofa celebrated Christmas together.
Amna Baber was spotted at the party hosted by HSY on the Christmas Eve and she looked gorgeous. Don't believe us? Have a look!
Mawra, being Mawra, shared a blurred picture of her on the Christmas eve, with a red hat and the merry spirit.
Model Rabia Butt shared a funny Christmas greeting for her fans.
The newly-fathered actor, Danish Taimoor, wished his Christian fans on insta!
The VJ, Anushay Ashraf, wished her fans the birthday of a legend, Jinnah, as well as Christmas greeting on Instagram.
https://www.instagram.com/p/_tNVVdv1IR/?taken-by=anousheyashraf
Meesha Shafi celebrated Christmas like a boss. From partying with the glitterati at HSY's party to spending some quality time with the family, she did it all. Have a look.
Referring to the recent Ms. Universe debacle, Uzair Jaswal shared a post on Instagram and it cracked us up!
With a glowing Christmas tree, Areeba Habib shared a cute photo and made our day!
Wiqar Ali Khan celebrated the festival of joy with his family in London. The pictures are just adorable!
The award-winning filmmaker, Sharmeen Obaid Chinoy, shared a very cute Santa wish for her followers!
https://www.instagram.com/p/_rslHDAdpb/?taken-by=sharmeenobaid
A simple wish from Nilofar Shahid is still better than no wish at all!
We have best wishes from the top-notch designer HSY as well! Oh, and you must look at his grandiose celebrations on Christmas eve.
[fb_embed_post href="https://www.facebook.com/hsystudio/photos/a.197467262832.128251.172167392832/10153425751847833/?type=3&theater"/]
Frieha Altaf's Instagram is full with images from the Xmas eve party hosted by HSY. Just between, we have some Christmas pictures with her family as well. She looks truly in the Christmas spirit.
Urwa looked cute with a Santa hat and her usual chirpiness.
Zoe Viccaji celebrated Christmas with home-made cakes and traditional delicacies, lazing around with her cat and just having an indorrsy type of day!
Humaima Malick appeared in style at a party hosted by Shan Shahid
Mathira uploaded a photo with her Santa cap and a Christmas tree claiming to be the Santa this year. Bring us luck, Oh Santa!
https://www.instagram.com/p/_t1L92GbCK/?taken-by=real_mathira
Rana Asif had a indoor party with his friends and the pictures are really cute.
However, the photo of the year must go to Sumbul Iqbal Khan's picture on Instagram. With the enchanting background decorations and equally enchanting Sumbul, the picture looks complete.
https://www.instagram.com/p/_to2AOCvyH/?taken-by=sumbuliqbalkhan
That is all from our side. Let us know how you celebrated your holiday in the comments below.