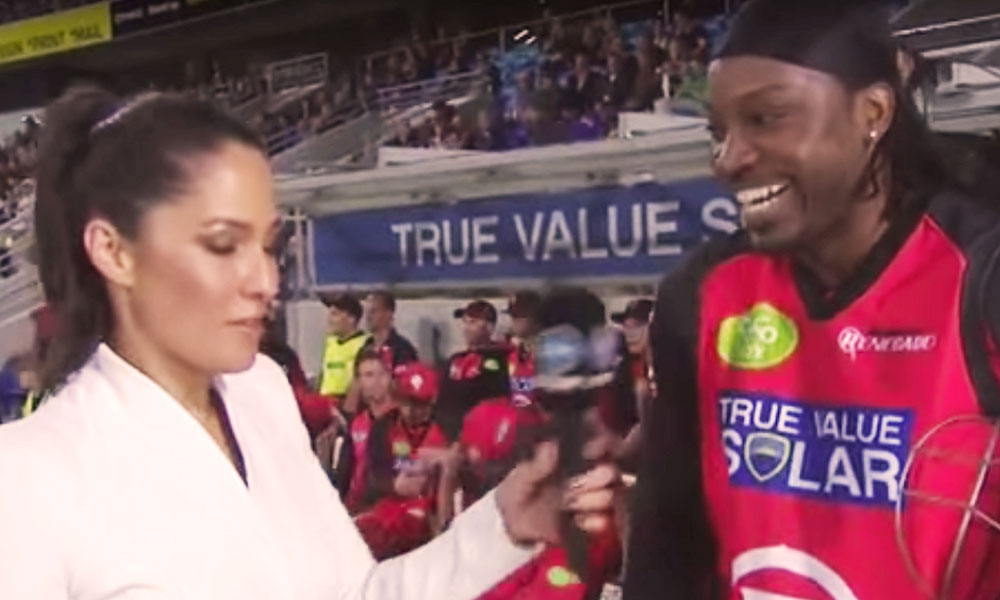 UPDATE: The Melbourne Renegades has fined the star opener Chris Gayle with $10,000 on Tuesday for his flirtatious comments on the Australian sports reporter Mel McLaughlin on live TV; the cricket authorities condemned the act as "completely out of line".
The Melbourne Renegades announced the sanction on Tuesday afternoon just hours before Gayle confronted the media where he apologised for his comments to McLaughlin made during last night's Big Bash League match.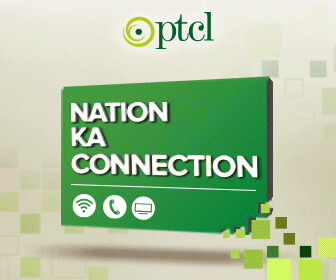 West Indian batsman Chris Gayle is being highly criticized on Twitter for flirting with an Australian female reporter on live TV.  It is reported that West Indies star Chris Gayle has apologized Tuesday after his "joke" flirt with the female television reporter was labelled "disrespectful" and "inappropriate" by authorities.
The reporter's name is Mel McLaughlin and is a well-known female sports reporter. She was interviewing the flamboyant batsmen and pinch hitter Gayle who had blasted 41 runs off 15 balls for the Melbourne Renegades in the Big Bash League (BBL) late Monday. Chris has been playing in the Australian Big Bash League for the Melbourne Renegades and had stopped for a while to chat with Mel.
While responding to a question during the interview, Gayle responded, "Hopefully we will go out for a drink after this. Don't blush baby." Watch video below;
[iframe id="https://www.ytpak.com/?component=video&task=embed&id=b1q5rXZskYk"]
Dumbfounded by the Gayle's comment, Mel managed to say "I'm not blushing", before going back to cricket related queries. By the end, Chris Gayle laughed and apologised to Mel McLaughlin.
The Big Bash League officials and Cricket Australia failed to see the funny side of the comment and labelled it as "disrespectful" and "inappropriate".
"I heard Chris's comments and they're disrespectful and simply inappropriate," BBL boss Anthony Everard stated, late Monday.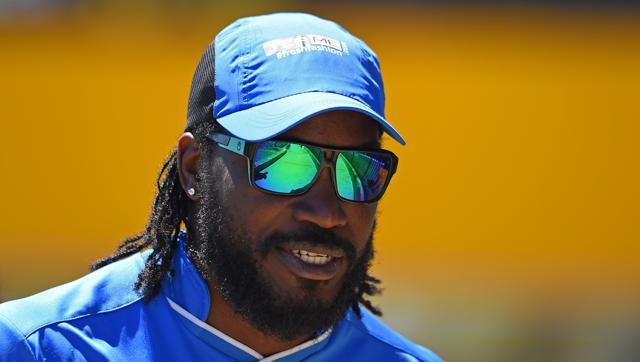 "There's just no place in the BBL or — for that matter, cricket anywhere — for that sort of behaviour."
James Sutherland, the Cricket Australia chief offered great support for McLaughlin saying that no person should have to encounter such comments, as they were "completely out of line" and "inappropriate for the workplace".
Well played @Mel_Mclaughlin !! Big fan of @henrygayle but made himself look a bit of a chop there @tensporttv #bbl05

— andrew flintoff (@flintoff11) January 4, 2016
Cringe-worthy. Embarrassing. Unprofessional. Uncool #chrisgayle #BBL05

— AR (@andrewdipper6) January 4, 2016
The most disappointing part of the #ChrisGayle interview is…there actually is nowhere to go out for a drink in Hobart on a Monday night

— Dunc McKenzie McHarg (@duncanmcmc) January 4, 2016
Speaking at the Sydney Cricket Ground on Jane McGrath Day, he left open the question of Chris facing major punishment.
"I don't think at the end of all this Chris will be under any illusions as to what we think of it. I'm not ruling out sanctions," he added, stating that Gayle was not in a "night club" and his behavior was "not cool".
The opening batsman openly apologized on Tuesday and told the reporters; "There wasn't anything meant to be disrespectful or offensive to Mel".  
"If she felt that way, I'm really sorry for that".
"There wasn't any harm meant in that particular way… It was a simple joke. The game was going on. Entertainment, things get out of proportion, but these things happen… We have to move on. Simple."
Stay tuned to Brandsyario for more updates.