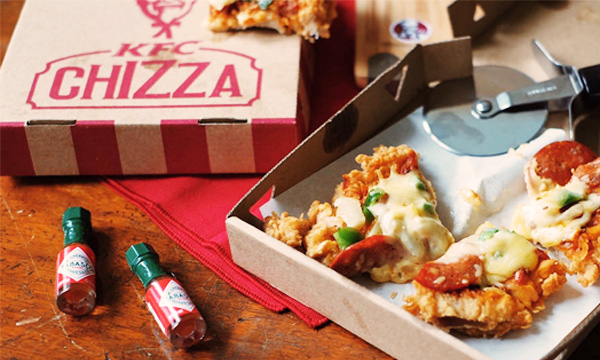 Behold the Colonel's latest chicky invention-Chizza! 
Claimed as the mad scientist of fast food chains, KFC claims to take the deep-fried coma to a notch further with its mish-mash of pizza minus-the- crusty- dough and succulent fried chicken breast.
Taking fast food to a whole new level, KFC débuted this fusion of a dish with the crispy chicken serving as the base of the pizza, slathered with pizza sauce and topped with green peppers, pepperoni and cheese.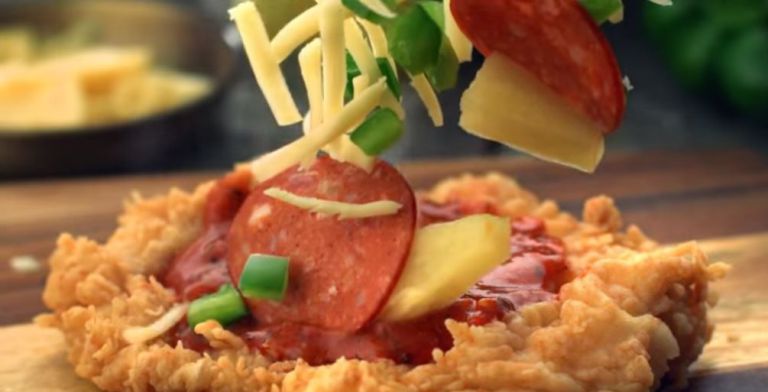 While KFC since long has been experimenting with food, it previously launched its Double Down sandwich, replacing bread with chicken breast fillets.
Sadly, if you are craving to grab a bite of this hybrid delicacy, you need a ticket to Philippines, for it's only exclusively available at specific outlets in the nation.
No crust pizza? Be the first to try something out of this world! Only 50 Chizzas available per store! #KFChizza pic.twitter.com/brccbjMOyD

— KFC Philippines (@KFCPhilippines) July 3, 2015
Check out what Twitterati all over the world has to say about KFC's Chizza-pie!
Everytime I see the kfc chizza commercial, lord smh, it looks so disgusting I wanna throw up.

— Nicole P (@nicoleannp_) July 10, 2015
i've examined "the chizza" and this could work. but the chicken is key. it has to be fried to perfection.

— McTeeny (@tynie626) July 10, 2015
KFC's chizza is the best creation in the whole universe. I mean, next to humans. No one can beat our shaytiness.

— bae (@franchescajinel) July 10, 2015
Thought this kfc #chizza thing was a joke – its actually real must try!!!

— Jeya (@jeya_7) July 10, 2015
Craving for KFC's Chizza right now. ✌

— blank. (@Adrian_palles10) July 10, 2015
That KFC new chizza chicken pizza looks gross

— Little Miss Cyanide (@AmerieYumako) July 10, 2015
KFC is making a chicken pizza called a Chizza and I just can't stop laughing

— Morgan (@morg44) July 10, 2015
kfc if you don't bring the chizza to the states, i swear i will decrease my number of kfc visits by 1 per year

— Icy (@icystorm) July 9, 2015
Whenever I hear KFC's Chizza TVC, I am reminded of the Leaning Tower of Cheeza #CoolerThanUrChizza pic.twitter.com/kT7SWAAZof

— Aspen Masangcay (@nikerlle) July 10, 2015
Do you think KFC's new "Chizza" will be Finger Lickin' Good?
Share with us in the comments below.