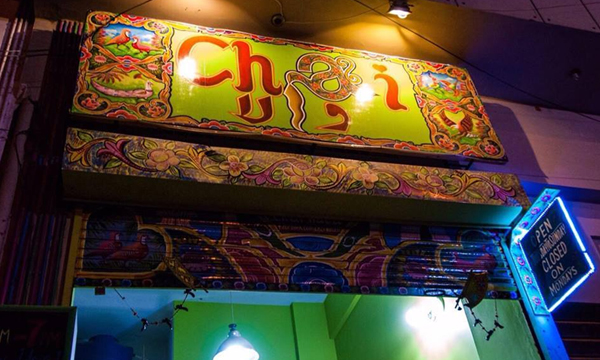 The rising culture of upscale and contemporary dhabas in Karachi took a setback when a famous local cafe, Chai Wala was accused of serving unhygienic food to a customer.
It all started when a female customer shared her disastrous experience on famous food talkies group claiming that she found a raw chicken leg with nails attached in a chicken Paratha.
According to her post, the restaurant staff apologized and didn't charge her for the food.
[fb_embed_post href="https://www.facebook.com/photo.php?fbid=10153959559121745&set=gm.1115547361829746&type=3&theater/" width="550″/]
The story went public when a local news channel ran a rather exaggerated version claiming that the restaurant is serving rat's leg instead of chicken.
The channel repeatedly ran the story in typical red headlines marring the reputation of the cafe without confirming any facts. But the Chai Wala Dhaba decided to clarify the situation by uploading a long explanation on its Facebook page.
The officials bravely admitted to their lacking and wittily handled the situation by openly inviting its loyal customers to come and take a tour of its kitchen.
Read their official reply below:
[fb_embed_post href="https://www.facebook.com/ChaiWalapk/photos/a.1399516277006167.1073741828.1392407171050411/1575275749430218/?type=3/" width="550″/]
Just like always, the internet is divided; while many are criticizing Chai Wala for their poor hygiene standards, the others think it's just an attention seeking stunt.
Located near Bukhari Commercial, Phase 6 DHA, Karachi,  Chai Wala is a fusion of an upscale café and the traditional chai dhaba, boasting of a truck-art themed set up and a chic chai menu with items like Disco Chai, Cadbury Chai, Chicken Cheese Paratha, Pizza Paratha and Nutella Paratha.
With the tagline Peeyo Magar Pyar Se, this particular dhaba differentiates itself from the traditional ones by ensuring that only mineral water is used for tea and discouraging littering. The prices for the Chais range from PKR 50 to PKR 150.
Will this incident affect Chai Wala's popularity? Share your thoughts in the comments below!