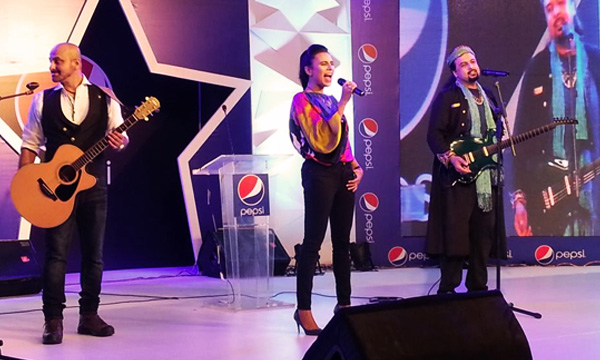 Junoon and Vital Signs fans! Rejoice! The wait for the 'Chand Sitara' official reunion is over! The song was launched yesterday in Lahore at the Royal Palm, whereas the video is already out.
Watch the video below:
[fb_embed_post href="https://www.facebook.com/pepsipk/videos/10153091940557496//" width="550″/]
Vital signs, Junoon and Shoaib Mansoor are collaborating for this new music video. Dedicated to the innocent children of the Peshawar APS attack, the video is a step towards unification of Pakistan by reflecting the brighter days, the struggles of today and the promise of a better tomorrow.
Watch Junaid Jamshed perform 'Dil Dill Pakistan' at the Chand Sitara event:
[iframe id="https://player.vimeo.com/video/135910221″]
[fb_embed_post href="https://www.facebook.com/JunaidJamshedFansPage/videos/898949350141417//" width="550″/]
View images from the event below:
#ChandSitara @pepsipakistan pic.twitter.com/IJlw2PolHY

— Abdullah Sulehri (@abdullahsulehri) August 10, 2015
Love the theme of this event. Well done @pepsipakistan #ChandSitara pic.twitter.com/Iht1Fb56ra

— Amna Tariq (@Amnaa_tariq) August 10, 2015
A new star on the Independence Day #ChandSitara #Pakistan @pepsipakistan pic.twitter.com/IkNgKTYceq

— Bilal Sulehri (@sulehri) August 10, 2015
So many celebs are here! #ChandSitara … Amazing event by @pepsipakistan pic.twitter.com/E6GP8L928v

— Muhammad Ali (@emALiBaBa) August 10, 2015
'DIL DIL PAKISTAN' 3rd Most popular song of the world. Shahi ahmed and Zoye #ChandSitara by @pepsipakistan pic.twitter.com/CYJcjmACeP

— Rana Mohsin (@RanaMohsinSabir) August 10, 2015
I Love the theme of this #ChandSitara event in Royal Palm, Lahore. Organized by @pepsipakistan Amazing Setup! <3 pic.twitter.com/wneCCc051R

— Fia. (@iFiaChohan) August 10, 2015
@realshoaibmalik at #chandSitara event @pepsipakistan pic.twitter.com/PSBOtyvgue

— Amna Tariq (@Amnaa_tariq) August 10, 2015
An incredible night bringing life back into Pakistan! #ChandSitara @pepsipakistan 💚✨ pic.twitter.com/EB2RkSAyWI

— Hadiqa Kiani (@Hadiqa_Kiani) August 10, 2015
Meanwhile, Pepsi Pakistan is also actively promoting Chand Sitara:
[fb_embed_post href="https://www.facebook.com/pepsipk/photos/pb.319859607495.-2207520000.1439275367./10153078395147496/?type=3&src=https%3A%2F%2Ffbcdn-sphotos-b-a.akamaihd.net%2Fhphotos-ak-xtp1%2Ft31.0-8%2F11856390_10153078395147496_2630415003995455592_o.jpg&smallsrc=https%3A%2F%2Ffbcdn-sphotos-b-a.akamaihd.net%2Fhphotos-ak-xtp1%2Fv%2Ft1.0-9%2F11227045_10153078395147496_2630415003995455592_n.jpg%3Foh%3Dff462e658e5788023c366223c8bef227%26oe%3D563C49E6%26__gda__%3D1446916387_5e39e9800cc214e48995780a2f340fda&size=1000%2C1000&fbid=10153078395147496/" width="550″/]
[fb_embed_post href="https://www.facebook.com/pepsipk/photos/pb.319859607495.-2207520000.1439275367./10153089381467496/?type=3&src=https%3A%2F%2Fscontent-cdg2-1.xx.fbcdn.net%2Fhphotos-xfp1%2Ft31.0-8%2F11845092_10153089381467496_948903354052639818_o.jpg&smallsrc=https%3A%2F%2Fscontent-cdg2-1.xx.fbcdn.net%2Fhphotos-xpt1%2Fv%2Ft1.0-9%2F11880456_10153089381467496_948903354052639818_n.jpg%3Foh%3Df0b1a6f5689243f0f25219dd08c23994%26oe%3D563BB970&size=1000%2C1000&fbid=10153089381467496/" width="550″/]
[fb_embed_post href="https://www.facebook.com/pepsipk/photos/pb.319859607495.-2207520000.1439275367./10153083812757496/?type=3&src=https%3A%2F%2Ffbcdn-sphotos-d-a.akamaihd.net%2Fhphotos-ak-xfp1%2Ft31.0-8%2F11850442_10153083812757496_5288039812194347214_o.jpg&smallsrc=https%3A%2F%2Ffbcdn-sphotos-d-a.akamaihd.net%2Fhphotos-ak-xfp1%2Fv%2Ft1.0-9%2F11870656_10153083812757496_5288039812194347214_n.jpg%3Foh%3D6c525db6cab25a804ac228dfed871074%26oe%3D56372F25%26__gda__%3D1451513152_57a7c48678713e6be648252d75bd6f47&size=1000%2C1000&fbid=10153083812757496/" width="550″/]
[fb_embed_post href="https://www.facebook.com/pepsipk/photos/pb.319859607495.-2207520000.1439275367./10153081829442496/?type=3&src=https%3A%2F%2Fscontent-cdg2-1.xx.fbcdn.net%2Fhphotos-xap1%2Ft31.0-8%2F11792163_10153081829442496_7076510790494312945_o.jpg&smallsrc=https%3A%2F%2Fscontent-cdg2-1.xx.fbcdn.net%2Fhphotos-xfp1%2Fv%2Ft1.0-9%2F11825889_10153081829442496_7076510790494312945_n.jpg%3Foh%3D7611de1b0e712c1949a5e44fbaf8a39c%26oe%3D56395465&size=1000%2C1000&fbid=10153081829442496/" width="550″/]
[fb_embed_post href="https://www.facebook.com/pepsipk/photos/pb.319859607495.-2207520000.1439275367./10153079949992496/?type=3&src=https%3A%2F%2Fscontent-cdg2-1.xx.fbcdn.net%2Fhphotos-xpa1%2Ft31.0-8%2F11229702_10153079949992496_3872037917550733294_o.jpg&smallsrc=https%3A%2F%2Fscontent-cdg2-1.xx.fbcdn.net%2Fhphotos-xft1%2Fv%2Ft1.0-9%2F11846521_10153079949992496_3872037917550733294_n.jpg%3Foh%3D29afbf51e9e9c5ec66093ed0da8dce1f%26oe%3D564A05FC&size=1000%2C1000&fbid=10153079949992496/" width="550″/]