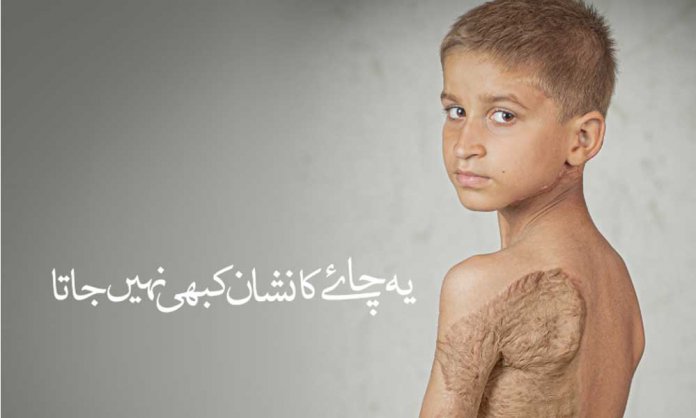 Did you know, 80% child burn cases reported in 2018 were caused by tea related spills?Which means, every third household has a child burn victim.
Children being around tea or even having tea is a common thing in Pakistani households, which makes it all the more likely for them to get burnt.
Yes, THAT'S how common these burns are, yet nobody talks about them, let along do something to prevent them.
Tezgam Express Fire: Passengers Are Still Allowed to Carry Gas Cylinders in the Train!
Therefore, it was essential to create awareness on the matter and the #ChaiKaNishaan campaign for burns.pk has done a great job in that regard:
Every 3rd household has a child burn victim. Let's take action to change that kyon ke yeh #ChaiKaNishaan kabhi nai jata. Log on to https://t.co/GKlb1z3csc to sign the petition and raise awareness about it! pic.twitter.com/bR3UhJzvc8

— Ali Rehman Khan (@alirehmankhan) November 2, 2019
It is a compelling video that elaborates on how widespread the issue of child burn is, how easily it is ignored and neglected, and how important it is for adults in Pakistani households to be careful with their hot tea.
It was wonderful to see that, once the video was out, many social media users began commenting below it to share their own stories of causing/witnessing/experiencing burns from hot tea.
This hapned to my elder bro too but Alhamdulliah he was lucky as my Mom qukly rushed him to the shower n she stood their holding him …aftr tht my parents took him to dr whre he said tht it'd hav been a 3rd° burn if the mom woldn't hav acted quickly.

— Kashmala (@Kmaladazzle) November 3, 2019
My sister have scars. thankyou so much for rise voice for burn victim. @alirehmankhan

— Awahab (@i3ahab) November 2, 2019
HERE'S HOW YOU CAN HELP:
Log on to Burns.pk and sign a petition that makes it obligatory for tea labels, distributors and sellers to post a warning message on their labels/shops/assets.
This petition, once it reaches its goal, will be submitted to the Ministry of Health Services Regulations and Coordination.
Meesha Shafi Bashes Khalil ur Rehman Qamar for Problematic Views
Have you experienced something similar? And does this campaign convince you to be more careful and sign the petition to prevent these accidents from occurring so frequently?
Let us know in the comments.
Stay tuned to Brandsynario for more news and updates.