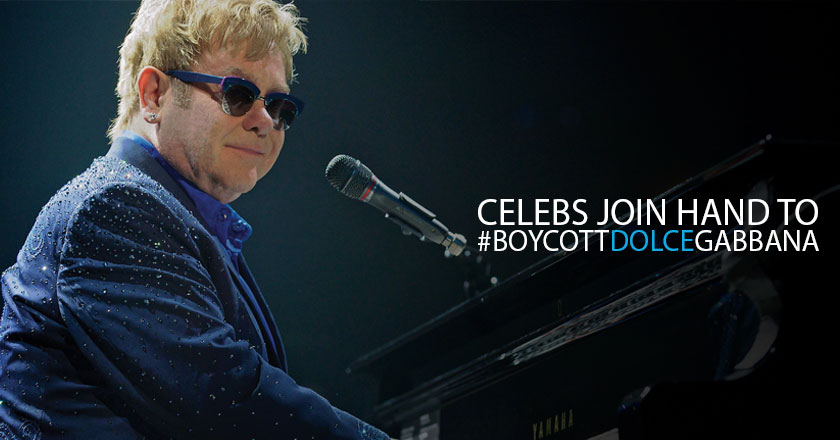 The fashion duo, Domenico Dolce and Stefano Gabbana, landed in the heat of controversy by making comments against gay couple adoptions, fertility treatments and surrogate mothers, during an interview.
The Italian designers recently released a family themed fashion collection with models on the ramp carrying babies and clothes sporting printed photos of what they claim to be a "traditional family". During the interview with Italian magazine, Panorama, Dolce made his dislike clear for all other forms of family.
"You are born and you have a father and a mother. Or at least it should be like this, that's why I am not convinced by chemical children, synthetic babies, wombs for rent."
His comments outraged gay couples across the world, who resorted to social media networks to express their views and boycott the works of designers. The protest campaign is lead by singer, Elton John, gay father of two adopted children, who took to Instagram to respond to the designers' negative comments.
In an instagram post Elton John stated that, "How dare you refer to my beautiful children as "synthetic". And shame on you for wagging your judgemental little fingers at IVF – a miracle that has allowed legions of loving people, both straight and gay, to fulfil their dream of having children. Your archaic thinking is out of step with the times, just like your fashions. I shall never wear Dolce and Gabbana ever again. #BoycottDolceGabbana"
Gabbana did not take the criticism well and called him a fascist while commenting to a newspaper, "I wasn't expecting it from a person like Elton John whom I considered — I underline considered — intelligent. You preach understanding, you preach tolerance and then you attack? Just because someone thinks differently to you?"
Ironically, the designer duo were a gay couple themselves. However, they were against adoption due to their traditional values and broke up a while later to continue as business partners.
Gay couples from around the world are expressing their disgust on the comments and their love for their adopted or surrogate children but the outrage does not seem to bother Dolce and Gabbana.
"Maybe we'll lose some Elton John fans, maybe we'll get some mothers, who knows?"
While the Italian designers are not worried about losing customers due to Elton John's campaign, more and more celebrities are resorting to social networks to join it and it might just do them more harm than they expect.
Sending love to Elton David Zachary Elijah & all the beautiful IVF babies x vb

— Victoria Beckham (@victoriabeckham) March 16, 2015
.@dolcegabbana ur voices R 2powerfull 2B spreading so much h8 http://t.co/30Oe2hcxNt Wake up,Its 2015 Luv urselves guys #boycottdolcegabbana

— Ricky Martin (@ricky_martin) March 15, 2015
I just read the article. @dolcegabbana sound IGNORANT and STUPID. I agree with @eltonjohndotcom #BoycottDolceGabbana jb

— John Barrowman MBE (@Team_Barrowman) March 15, 2015
These designers horrifying views are never in fashion. Their clothes are as ugly as their hate. #BoycottDolceGabbana

— Ryan Murphy (@MrRPMurphy) March 15, 2015
Just round up all my Dolce & Gabbana pieces, I want to burn them. I'm just beyond words and emotions. Boycott senseless bigotry! #boycottD&G

— Courtney Love Cobain (@Courtney) March 15, 2015
Because I choose to spend my money wisely & not support self-hating gays who view my son as "synthetic"! #BoycottDolceGabbana @dolcegabbana

— Perez Hilton (@PerezHilton) March 15, 2015
My twin girls, a MIRACLE of IVF, were so distraught by D&G calling them "synthetic" that I finally had to reboot them. #BoycottDolceGabbana

— Danny Zuker (@DannyZuker) March 17, 2015
I'm now going to have to turn down the next ad campaign #BoycottDolceGabbana

— Peter Crouch (@petercrouch) March 16, 2015