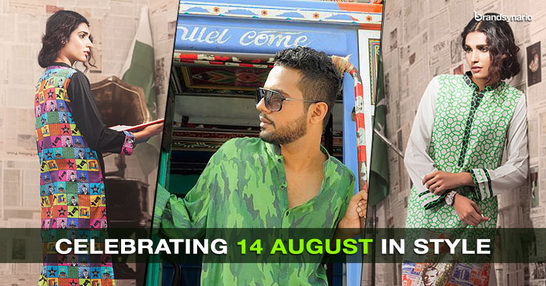 By Nida Mokhtar
Whether it is the holy festival of Eid, wedding mania or commencement of a new season, our fashion industry always lends us specific, occasional and themed style staples to make us commemorate each occasion in its true spirit.
Similarly, to mark the celebration of the Independence Day, a bevy of designers and designer houses have launched special independence collection.
We have rounded up all the available collection of clothes and accessories for you.
Here is your guide to celebrate 14th August in style:
Patriotic Kurtas
If you want to up the ante of your style on the Independence Day by sporting traditional ensembles, you can do that in a very patriotic way.
Scores of designers such as Sanam Chaudhry in collaboration with Blocked, Maheen Kardar Ali of MK Nation as well as eminent design houses like Gul Ahmed and Bonanza are now offering traditional kurtas with patriotic prints and motifs.
The juxtaposition of green and white; motifs and prints of Pakistan's map, picture of our founder of the nation, Quaid-e-Azam and many other historic cultural elements are incorporated in the designs and prints by these designers.   
Chic Patriotic Tees and Tunics
If you do not want to opt for a traditional kurta but feel comfortable in a pair of your old denims and tee, in that case too, our designers would not disappoint you.
Gulabo by legendary Maheen Khan has to offer some oh-so-cool tees and tunics. Vintage stamp, military prints, historical buildings and sites are used by this brand to reflect love for the homeland. 
If you want to do some charity while buying your perfect outfit for the Independence Day, you can buy your patriotic tee from The Citizens Archive of Pakistan (CAP). CAP, an NGO of Oscar winner Sharmeen Obaid Chinoy is offering tees for the Independence Day. A lot of celebrities and stars are also supporting CAP by sporting its tees.
Accessorize your Patriotism
On this special day, when you are embracing a cool patriotic demeanor, make sure you do it well by adding complementing accessories.
Maheen Hussain has launched some glittery and trendy bags and clutches. The collection includes sequins based and printed bags and clutches. Gulabo is also offering bags with vintage stamp commissioned in 1947 by the founder of the nation imprinted on it.
While going to your school or university, you can show your love for the country throughout the month of August by carrying funky and colorful designed notebooks by Nine Lines.