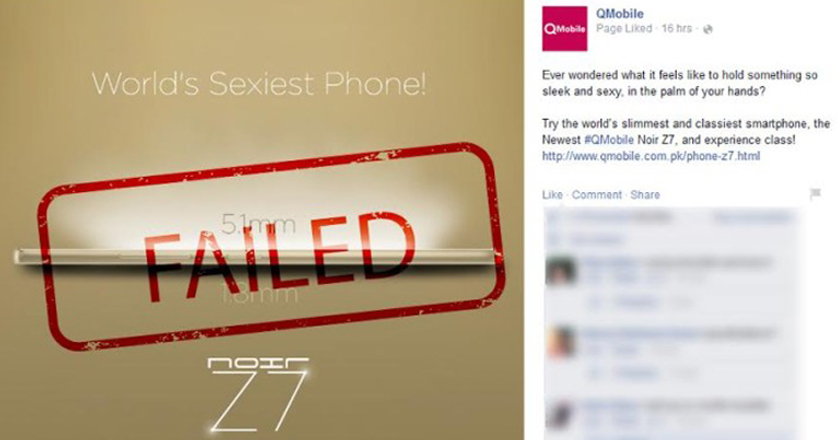 So Qmobile's Sexiest and Slimmest is not even Original!
The local mobile phone manufacturer has recently added the Noir Z7 to its range of smartphones and the social campaign just got backfired – big time.
Dubbed 'The Sexiest Phone in the World', the Z7 focuses on its stylish design and slimness but its seems that the smartphone got so slim in the process that the social team/agency agency mistook it for Oppo R5.
Reported by propakistani.pk, a visual was posted on QMobile's Facebook account, showing the thin frame and claiming to be world's sexiest and slimmest phone, which is just 5.1mm thick.
However, there are several problems with the campaign:
Z7 is not the world's slimmest smartphone, currently this record is held by Coolpad Ivvi K1 Mini.
The ad campaign and artwork has been copied from OPPO
The visual is misleading viewers by stating 1.8mm thickness of screen's glass
Obviously copied from Oppo's R5 (gold version) campaign, it looks like QMobile is running out of ideas to market its phones.
backlashed by Facebook users, QMobile was forced to remove the image and post a new one, which isn't all that different from the first. View the new picture here.
This isn't the first time that QMobile has come under the spotlight for its practices. It has been called out before, for extensively using Bollywood actors in its previous campaigns.