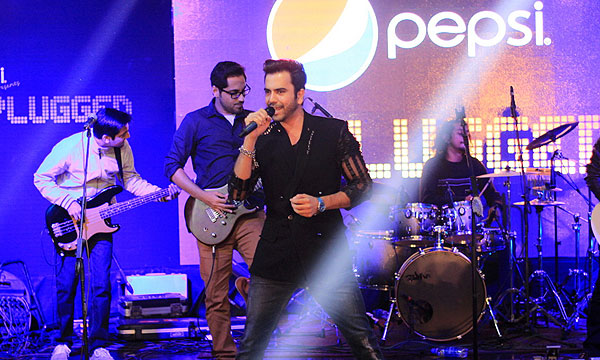 The Pepsi Unplugged Lahore- Fall Edition on 26th November 2015 at Pearl Continental Hotel with not one but two sensational artists which include Pakistani Idol, Zamad Baig and the Music Band, CALL.
After the resounding success of Pepsi Unplugged – Fall edition held in Karachi it was only inevitable that Lahore fans should not be left behind. Opening the show was a man with limitless vocal talent, someone that has received recognition from Pakistan's largest music platform, none other than the winner of Pakistani Idol, Zamad Baig. Following his performance was a band that needs no introduction, CALL. With the recent comeback into the music industry, they have managed to win the hearts of millions of Pakistanis once again.
The star-studded evening hosted many celebrities and socialites the likes of Nomi Qamar, Sarah Gandapur, Mariam Gandapur, Munib Nawaz, Waleed Khalid, Shafaq Habib, Kuki, Shanaz Ramzi, Omer Farooq, Shazia Naz, among many others.
Zamad Baig is a unique artist who does not hail from a music background and yet managed to win Pakistan's biggest music reality show, Pakistan Idol – Season 1. Zamad regards Nusrat Fateh Ali Khan, Reshma and Ali Azmat as his idols.
Take a look at the pictures of the event:
CALL is an Alternative Rock band formed by Danish J. Khan, Khurram J. Khan, Xulfi and Omer Pervaiz. The vocalist, Danish J. Khan left in 2001 and the band was disbanded. However, it reformed in 2002 when Khurram Jabbar Khan, a core member of the band returned from the United States. Khurram and Xulfi got together and auditioned for new band members and decided that their lingua franca would be Urdu. They found Junaid's voice to be fitting for the band's musical direction and recruited him as the band's vocalist. Soon Sunny was chosen to be on lead guitar, Usman Nasir on rhythms and Sultan Raja (Xulfi's student) on bass. Khurram joined in on drums. They released their debut album, Jilawatan in late 2005.
The official sponsors of this Unplugged edition were Pepsi Co., Cadbury Dairy Milk, TDI, Close Up and Oman Air. Spectacular prizes were given out to attendees sponsored by Oman Air and Close-Up.