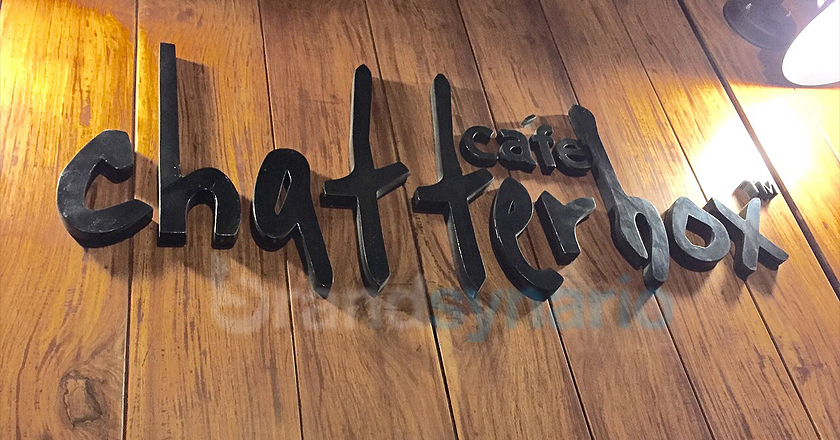 Walking into the newly opened Chatterbox Cafe, located on Bukhari Commercial DHA, was a welcome surprise. What struck me initially were the warm interiors done tastefully in wood and painted brick with just the right amount of ambient lighting.
With a seating capacity for 55 people, the tables and chairs were well spaced, giving an uncluttered feel with enough space to move around comfortably.
It was the soft launch of the café with food critics, media, bloggers and socialites invited for dinner. On being seated, I was presented with the menu for the day with an interesting choice for starters, main course and dessert. 
I chose the Vietnamese Beef Noodle Salad from the starters, followed by Baked Manciotti with Spinach for my main course and to gratify my sweet tooth I ordered the Italian Almond and Chocolate Torte. In addition there were was an interesting number of beverages to choose from and I decided to go for a healthy choice of cucumber juice.
All items came quickly so I made a mental note of the quality of service provided. Although it must also be mentioned that there were a select number of people present and individual attention was being given. It does remain to be seen if the same service would follow when there are larger crowds and more orders. 
The food was well presented in dishes that were made to serve individual portions. Taste wise, the beef Noodle salad was fresh and tangy and appeared colorful with grated cucumber and carrots mixed in.  The Baked Manciotti and Spinach was also good, with melted cheese on the top adding flavor. The cucumber juice was a pleasant surprise with a great, fresh taste to it.
Although I enjoyed the taste of the dessert, I did feel the torte was a little on the dry side. The portions were not huge, but nonetheless of a reasonable size. I was also informed that quality ingredients were being used, many of them imported to keep the taste and quality a notch above the usual.
On speaking with Naila Naqvi, the owner of the café, she informed me of the breakfast and lunch menu that would be available and I noticed a good variety of eggs that would be served for breakfast.
Some of the items on the menu were different to those available at other dining places in Karachi. The café will be open for breakfast from 8 am and will close at midnight after dinner and is the second branch that she has opened, the first one located within the Pie in the Sky bakery on Zamzama, Karachi.
In addition, I asked Naila if there would be any bakery items available as they are at Pie in the Sky which houses a smaller Chatterbox Café , to which she replied that they would soon be a number of gourmet cakes, pastries and other items available. The prices would be a little higher than the ones currently available because of the imported ingredients being used.
Although the location is not central, those who enjoy a fusion of good food with something unique to offer would definitely like to venture to this cozy café and maybe take some gourmet bakery items to enjoy at home as well!
Ratings:
Food Quality: 8/10
Ambiance: 8/10
Customer service: 8/10
Variety; 8/10
Pricing: 7.5 /10
Location : 7/10