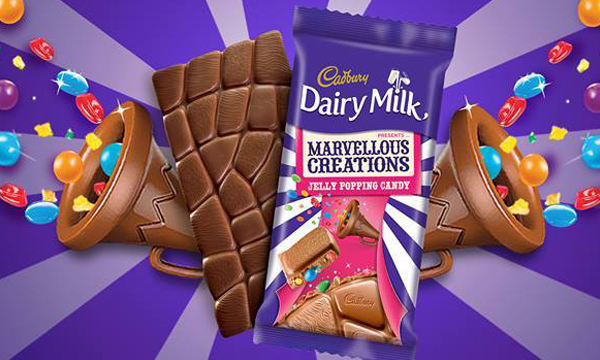 Cadbury has welcomed the new year with the launch of its new brand called 'Marvellous Creations' – MC. Known for experimenting and innovating with its chocolate variants, this is a completely new addition to the Cadbury portfolio and based on what we have seen through its advertising communication we are in for a fun-filled ride.
MC has been launched with two variants one is the Cookie Gummy Crunch and the other one is the internationally popular Jelly Popping Candy.


All these condiments have been added to the delicious Cadbury chocolate to give an outstanding experience like never before, people who have had the chance to consume this chocolate consider it to be the 'Hero in the making'.
Check out the TVC here:
The communication that has been played out locally is pleasing to the eye and the leaves one excited about this chocolate, Mondelez & their Agency partner Starcom have been smart in taking out a creative route in executing their campaign especially on the digital space where they have branded almost all the popular local websites with the art-work of MC, this comes across as a first in Pakistan execution done on such a scale.
Instagram Advertising Begins in Pakistan With Mondelez International
Browsing online, one can expect to see branding being done across portals of local news publishers, entertainment websites and video portals.
Mondelez is one of the most popular and active brands on the digital and social front, hence, it is refreshing to see creative inspirational work being churned out which goes in-line with the fun aspect of what Cadbury stands for and MC is expected to be another feather in the cap!