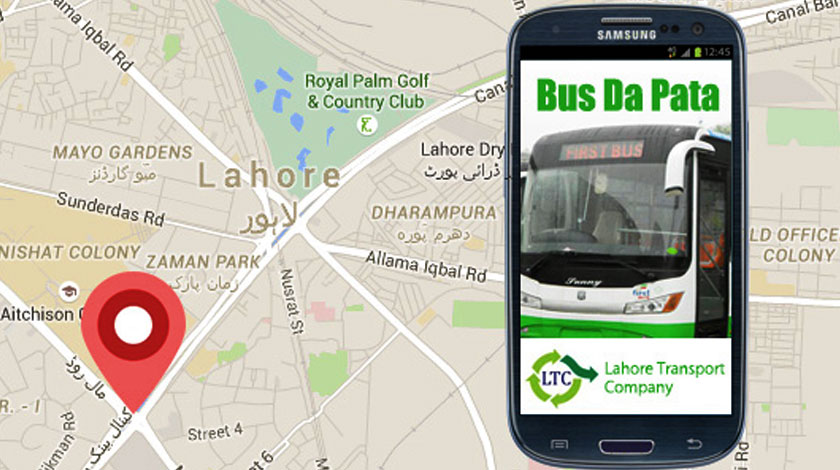 The Lahore Transport Company (LTC) is all set to launch a public transport app to provide safe, economical, efficient and environment-friendly public transport facilities at par with international standard to the passengers.
Aptly named 'Bus Da Pata', the android app is free-of-cost one click bus finder app which can be downloaded from the internet. It boasts multiple features including next bus' arrival time, trip planner, live bus locator, fare and route information thus saving commuters' time and efforts.
"Bus Da Pata" will cater to the common man standing on the bus stop in warm weather. The user-friendly application will not only assist him/her in finding out about the arrival of next bus, but will also tell how much fare is to be given to the fare conductor and route information for the planned journey.
Also see: Halal Trip: Smartphone App Making Travel Easy for Muslims Around the World
Carrying the task to implement, devise and administer the public transport system,  Pakistan Trakker Limited has also collaborated with the Lahore Transport Company to launch this app.
Providing safe, economical, efficient and environment-friendly transport facilities as that of international standard to the passengers was one of the top priorities in the Federal Budget.
In the launching ceremony Chairman, Khawaja Ahmad Hassaan said, "The urban public transport has never been profitable but it is a social service and our private transport operators are contributing to the system,"
Take a look at the App's primary interface and display:
Lahori citizens can now plan advanced bus trips and can save your precious time. Download the app from android store link here.