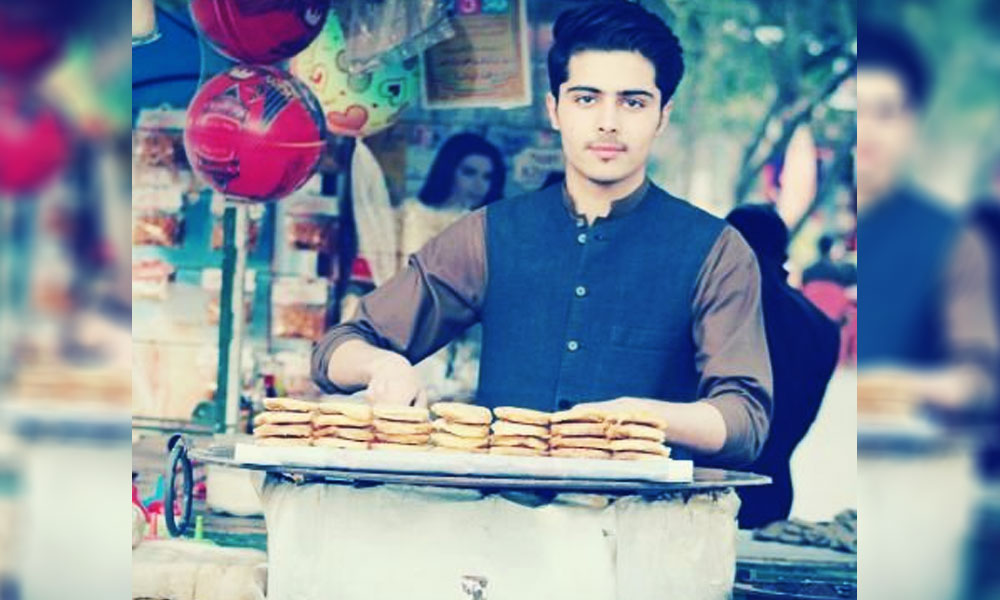 After Chaiwala Arshad Khan, Pakistan has a new crush! This lad was discovered by Raza Mehdi at Ayub Park Rawalpindi, and he is the 18-year-old, Shah Fahad.
The young lad is a burgerwala or shall we say bun-kabab-wala who sells bun kabab at a small shop in the park.
Raza came across the boy while he was conducting a live session at Facebook, Raza revealed that Fahad contacted him through his Twitter account.
Will be live tonight on my facebook page : https://t.co/V8Xu6XaNsE tonight at 9:30 PM

Will share the #BurgerWala story and how it happened

— Raza Mehdi (@SyedRezaMehdi) February 19, 2017
"He sent me his picture, which I tweeted, and I had no idea it will circulate this fast." Raza said while talking to a local news website. When the image of Fahad went viral, many individuals rushed to the park to witness the gorgeous bun-kabab-wala Fahad, however, they were unable to stop him. The reason being that Fahad quit his job to focus on his studies. He also shared a video with Raza, thanking his for his support on social media.
"Fahad told me he quit. He said that he left his job at the burger stall to pursue his studies since he will soon be enrolling in grade 9. So, I asked him to go back to the park and record a message from his stall, and he did so. Even if he is telling half the truth, and does not work at a burger stall, why do we feel the need to criticise everything and everyone." Raza added.
Meet Burgerwala AKA Bun-KababWala Shah Fahad
Em burger wala.. pic.twitter.com/6W7g5lgK1A

— Fahad Rocky (@FahadRocky4) February 16, 2017
#NewProfilePic pic.twitter.com/1piClmTY8w

— Fahad Rocky (@FahadRocky4) February 15, 2017
You can watch Raza's live session below:
Social Media Reacts
Here's how everyone is buzzing about burgerwala on social media:
After Chai wala Here Comes Burger wala.18 Years Old.Shah Fahad Belong to Rawalpindi Sells Bun Kabab at Ayub Park Rawalpindi. #BurgerWala. pic.twitter.com/nIjaCshILh

— Engr.Murad khan (@MuradSahil2) February 20, 2017
https://twitter.com/naeemsiddiqi/status/833427955833589760
@SanaSpeaks444 Ye #burgerwala khud hi burgur h isse koi kha na jaaye..

— Amanullah Brohi (@AmanullahBrohii) February 19, 2017
This #Burgerwala is better than #Chaywala ☺️☺️ pic.twitter.com/gGDrd12HeV

— SaNa ® (@SanaSpeaks444) February 19, 2017
After Chai Wala here comes Burger 🍔 Wala. 18 years Old Hassan Nawaz belongs to Multan sells Bun kabab at 9 Number Multan .#BurgerWala pic.twitter.com/J9NPVYWUXS

— Hassan Nawaz (@HassanN90593005) February 19, 2017
https://t.co/wfn5oT44GX
Ye le bhai teri dua Qabool agya Burger wala #Burgerwala https://t.co/OGJVsJfl12

— Taymoor Nouman (@itaymoornouman) February 19, 2017
ohhh sir match chal rha hoga 🙁 🙁#BurgerWala
har chery k pechy aik kahani ha ..!

— Aheedam (@MadeehaAtta) February 19, 2017
https://twitter.com/UswaZeydi/status/833280101928296448
After #ChaiWala,Here Comes Burger Wala.
18 Yrs Old Shah Fahad Belongs To RawalPindi.
Sells Bun Kabab At Ayub Park RawalPindi.#BurgerWala pic.twitter.com/hHM6XZAgqp

— ❤️RABIA ANUM FAN❤️ (@RABIAANUMMFAN) February 19, 2017
#BurgerWala looks better then #ChaiWala

— Counting stars. (@lessthanzero__) February 19, 2017
Have a look……#BurgerWala,… pic.twitter.com/97iODfWAcB

— Amna Khan🌐 (@amnakhani123) February 17, 2017
What do you think about Pakistan's new crush?
Stay tuned to Brandsyanrio for more news and updates.