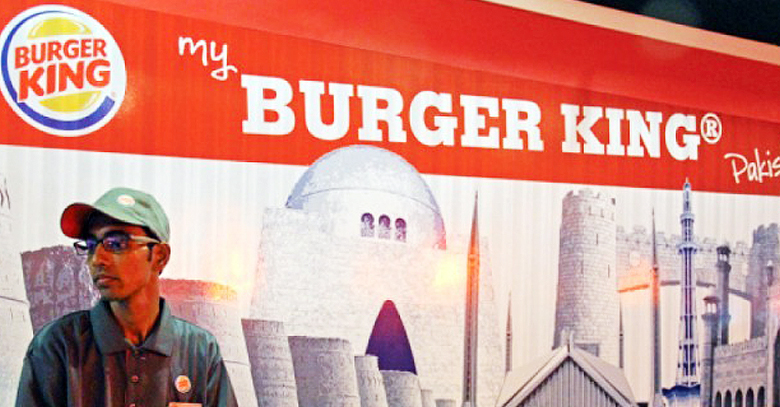 By Ufaq Ashfaque
Recently, Karachi witnessed the opening of the much popular Burger King, an international fast-food chain that had Karachiites waiting for a long time.  
Burger King has simultaneously plans to open four branches in various vicinities of Karachi but October 5th saw soft launch of two Burger King outlets in Boat Basin and Khayaban-e-Nishat.
Despite their multiple openings in Boat Basin and Nishat Commercial, the response of the crowd was not as expected.
If you're planning to make a trip and try out the globally acclaimed burger in the fast food industry, here is what you need to know:
Dont Expect a Two-Fold Page Long Menu
Burger King is offering only two meals at the moment; the Whopper and Chicken Royale priced at around Rs. 500 each. The bright side is that as an unspoken introductory offer, they are upsizing the meals for free.
Dont Expect Out of the World Quality and Taste
"The buns were stale and crumbling! Near to its end couldn't even hold the whole thing properly! Plus they were toasted more than they were supposed to just to cover up the staleness," one customer shared his experience on Facebook.
Another customer stormed on social media, regarding the beverage and the products offered as a sideline, saying that "large glass of coke was half filled. I had to ask for proper refill and it didn't happen to one glass by mistake all the coke glasses of 6 meals I ordered were half filled… Fries were best no doubt but burger was a total disappointment."
Dont Expect to be treated Like a Royalty
While there are people who are loyal to the brand, the initial impression always makes a statement, either coming from a person or from an international brand.  With little or no space and endless hours of waiting, customers were actually furious due to the non-satisfying experience.
Even though people thronged the place, Burger King's initial launch has not gone according to plan.  Burger King will have to work harder – maintain international quality – in order to keep their audience hooked and regain customer confidence.
The Burger King franchise has been bought by MCR Pakistan, the franchisee of Pizza Hut in Pakistan.