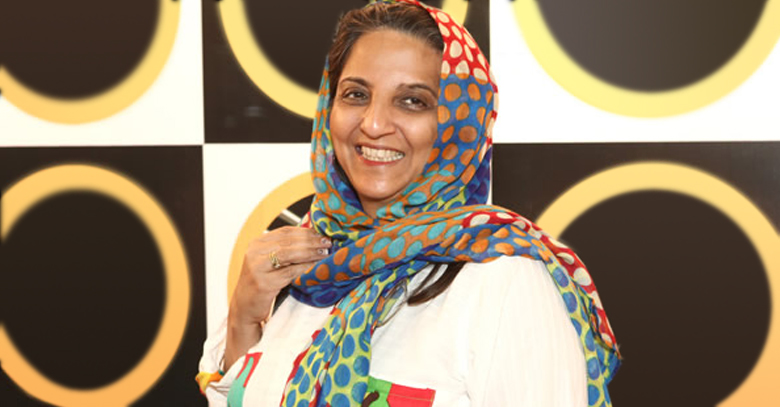 Synergizer was in conversation with the Head of Publications and Public Relations of Hum Group Shanaz Ramzi.
She is a renowned freelance journalist and has been nominated twice for the Gender in Journalism Award by UNESCO. Ms Ramzi also received the Best Journalist award by Mandoob.
Synergyzer: How long has your channel existed in Pakistan?
Ms. Ramzi: Hum Network was launched in January 2005 and is currently celebrating its 7th Anniversary.
Synergyzer: Have there been any specific developments in your network that you would like to share?
Ms. Ramzi: Hum Network initiated operations as a public limited company with Sultana Siddiqui, as its President.
We launched ourselves as a complete entertainment channel which again, was completely out of norm as most channels then were either based on airing News or had the element of news in their programming content.
We diversified to include a food channel – Masala TV – and then into fashion and lifestyle with Style 360. We also brought out Oye, a youth channel, and a radio channel, which were nonviable financially so we closed them down.
HUM TV can be viewed from anywhere in Pakistan; furthermore, we have a vast international audience of Pakistanis and other nationalities in USA, UK, Africa and the Middle East.
Synergyzer: What part of the market are you focused towards? Why?
Ms. Ramzi: Holistically speaking, we target our offering toward families.
But women are our prime target market. Starting form girls in their teens, our programs are watched by women up to the age of 60 years.
Synergyzer: Why is Hum Network focused on the entertainment and lifestyle genre only? Why is it not diversifying towards the news genre?
Ms. Ramzi: Our strength has always been our dramas. Most of our target market had diverted their attention to Indian dramas and soaps and Sultana Siddiqui made it her mission to revert them back to Pakistani dramas.
Moreover, we then began exploring new markets such as cooking, fashion and lifestyle as we felt that no one was doing it and we got the first-mover advantage.
We might foray into news casting in the future, but no such plans for now.
Synergyzer: In Pakistan, which genres do you believe have the potential to gain mass viewership?
Ms. Ramzi: Globally, entertainment has been the most popular genre and in Pakistan too, it has a lot of potential, which needs to be exploited.
It has resulted in a number of channels cashing upon this massive opportunity. More channels, however, are required to fulfill the existing dearth we see in this genre today.
Synergyzer: Pakistan is a very young market, with opportunities for a number of industries including electronic media. What is the reason then, that youth oriented hybrid channels like Aag and Oye have not been able to gain much popularity?
Ms. Ramzi: Most households in the country are single television households where the entire family would sit around and watch what interests all.
Initiating a channel focused on just one segment was not practically feasible and second, it did not receive a lot of support from advertisers.
It goes without saying that a channel has to survive largely on advertising. An advertiser's priority is to target the masses which they can't do by advertising on a hybrid youth channel.
Synergyzer: What amount of potential does product placement have in terms of channel revenue?
Ms. Ramzi: It may have potential, but it has not taken off yet.
It seems to be more feasible for films, globally. On TV, the concept of branded programs generates more visibility for the brand than product placement currently.
Also, it's premature to comment since we are still a young industry.
Synergyzer: What is the penetration of cable in real terms in Pakistan? What is the potential?
Ms. Ramzi: Statistically speaking, I believe at the moment it is 70% in urban areas and ranges between 40%-60% in rural areas.
However, there is massive potential for cable to grow and it needs to be exploited.
Synergyzer: Besides satellite and cable technology, are there any new and viable avenues of technological advancement being explored for TV? What would be the potential?
Ms. Ramzi: PTCL Smart TV is a revolutionary step towards how we view television, often compared to what TiVo is in the USA.
However, it has not made as big an impact as its potential, due to the high price. There is huge potential but pricing strategies need to compliment the potential for growth, not hinder it.
Synergyzer: What will be the impact on TV channels if access to television became more convenient through different modes of technology? Would there be any benefits?
Ms. Ramzi: I believe that quoting the importance of social media here is of paramount importance.
If you miss a certain episode of a certain show, you can watch it on various file sharing and streaming websites such as YouTube.
Many people feel that it's an alternate to television but it compliments television, not replace it. This in-turn increases the viewership of that program.
As far as advertising revenues are concerned, they will continue to grow with the penetration of television channels into the Pakistani population.
"Most households in the country are single television households where the entire family would sit around and watch what interests all", Shanaz Ramziencapsulates the vision of Hum Network in one sentence.