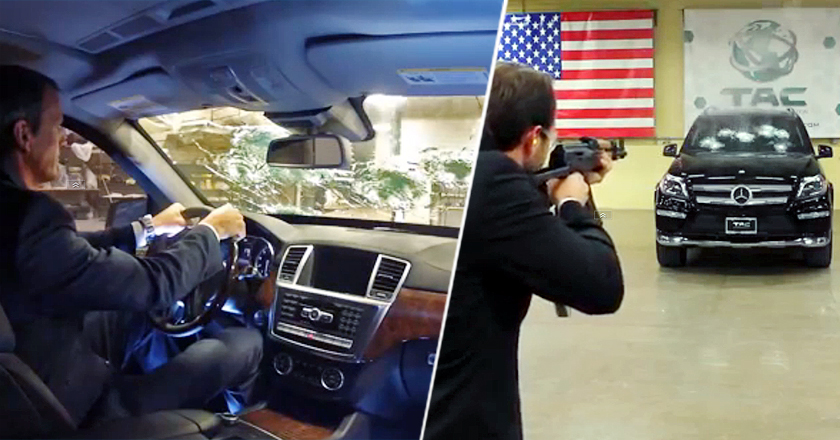 A video by the Texas Armoring Corporation (TAC) has gone viral over the internet and for good reason.
Texas Armoring Corporation (TAC) prides itself upon its specially designed bulletproof vehicles and is one of the most acclaimed and trusted corporation to operate in the armoring industry.
So how much faith should one put in the TAC cars? 
To show that their protection is world class, trusted and can withstand rifle shots; the CEO of TAC himself took to the wheel.
Taking product testing to a whole new level, Trent Kimball, the CEO of TAC stepped inside a Mercedes SUV armored by TAC and took 12 bullets to the windshield without flinching even once.
"When it comes to assuring our clients' safety, we take product testing very seriously," Kimball says in the clip before getting inside the vehicle.
TAC sales manager and sharp shooter, Lawrence Kosub fired total 12 shots on the CEO seated in the driver's position. The shots were fired by the world's most renowned and used rifle, the AK-47.
The cameras were set up outside and even inside the car to prove there was no foul play. Also warning messages were seen in the video to never recreate or imitate the stunts presented in the video. You can have a look at the video below:
Mercedes Benz tested with AK-47 while CEO… by zemtv
TAC also buys specific cars asked by the customers and then retrofits armor onto it on special requests. Cars include limos, passenger vehicles, cash-in-transit vehicles, and VIP vehicles.
TAC has made armored cars for the Pope, Hollywood actor Steven Seagal, Rapper T.I and numerous oil executives in West Africa.