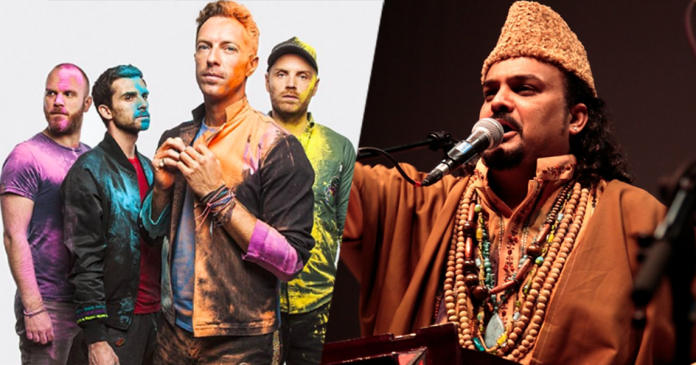 World-famous British band Coldplay has swoon fans and followers with their music. Recently, the band announced a new album called 'Everyday Life'.
The band has paid homage to Pakistan's Qawwal legend Amjad Sabri who had been killed in a shooting in 2016.
The album is topping charts but the track that stands out the most is titled 'church' which has an audible glance of our all-time favorite 'Viva la Vida' with a few samples by Amjad Sabri keening when the song ends.
In a recent interview with ENTERCOM, lead singer Chris Martin acknowledges that Amjad Sabri had great vocals and his qawwalis are beautiful.
Watch the interview below:
https://youtu.be/ubVO1C8-xrc
Pakistanis from all around the world are super proud of Coldplay's homage to the late crooner.
OMG GUYS @coldplay credits Amjad Sabri on its new album Everyday life. Can't believe this 😭thank you @Ossu20 for telling me this pic.twitter.com/0YXgOPhahL

— Arooj 🌙☀️ (@am_arooj) November 22, 2019
#AmjadSabri #Coldplay #EverydayLife #Church pic.twitter.com/grVTFsPqLY

— Faisal (@OneAndOnlyCFC) November 27, 2019
This, made my morning!https://t.co/Q4npQ3S8PI#Coldplay #amjadsabri #EverydayLife

— S Farrah K (@syeda_farrah) December 3, 2019
https://t.co/C5ERCS2thv #ColdPlay #AmjadSabri

— Xeeshan Ahmed Bhatti (@XeeshanBhatti) December 2, 2019
Listen to the track below!
https://youtu.be/lK2vs9Tokng
Have you heard the track yet? Share your thoughts about it with us in the comments below.
Stay tuned to Brandsynario for more news and updates.