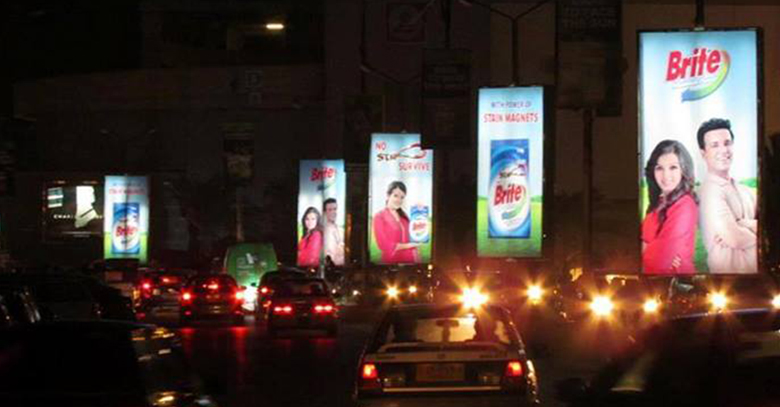 By Ufaq Ashfaque
We have witnessed the action-packed competition that is 'bubbling' in the detergent industry, particularly in Pakistan. Each brand is trying to reach the top either with a 'One wash claim' or 'Similar cleanliness (as Aerial or Surf Excel) in low price' one.
Brite Maximum power recently launched an integrated campaign including TVC, Out of home (OOH), print, Radio, etc. to counter the marketing tactics of its two major competitors – Surf Excel and Ariel.
Earlier this year, Surf Excel and Ariel invested a lot of money on their campaigns to position themselves as "no.1 stain removing detergent" and because of these heavy-budgeted campaigns Brite lost a good share of its market.
As a response, Brite introduced a comprehensive OOH activation in the metropolitan city which includes innovative billboards in high-traffic areas such as Boat Basin, Shahra-e-Faisal, Do Talwar, Nazimabad. Rose Advertising and Level 2 have designed the OOH activation.
Brite has been a leading washing powder brand in Pakistan. Since its re-launch in the year 2004, Brite has been actively promoting its brand via aggressive advertising. Their recent campaign featured Indian actor Aamir Ali Malik, where he washes clothes to give a much-needed break to his wife and implying that 'it's Brite's duty to remove stains'.
Previously, Brite has been connoted with 'Brite se koi dagh ab bachkar dikhaey' (Stains cannot withstand the wrath of Brite washing powder). They have specifically targeted females at home, positioning itself as a helping hand to reduce the stress of washing clothes.
Brite is gradually gaining momentum within the mid-tier target audience. Seeing their creative out-of-home (OOH) campaigns, catchy jingles and constructive advertising to bank on the needs and requirements of its target segment, it becomes evident that the brand has begun to capture a large market.
Their billboards, hoardings and other ways of advertising are proving successful for brand's reach, making it a leading name in the industry.
With the detergent market gradually gaining momentum, brands are fighting with all their might to earn the top spot in the market. Ariel and Surf Excel are at it very actively, bringing creative ideas, testimonials and using challenger platform in promotional activities of the category.