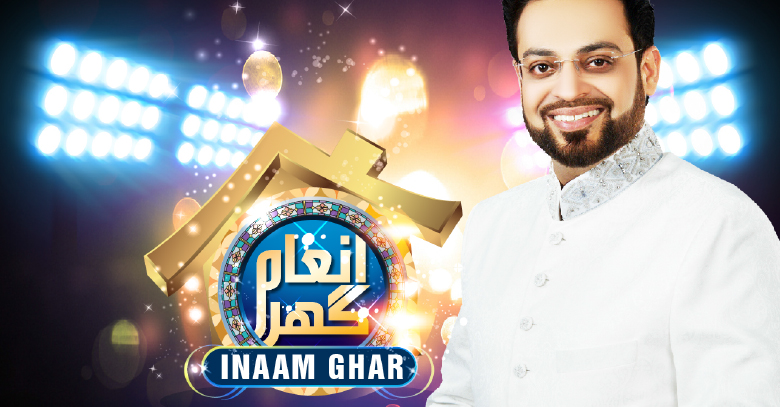 Aamir liaquat will soon return to GEO before his hunting season Ramadan with Pakistan's Biggest Game Show till date – "Inaam Ghar"
Yes, the man who broke every television rating record last year with 'Amaan Ramadan' is returning with the most loved segment of the show Loh e Qurani which will be re – named and modernized to 'Inaam Ghar'.
Reportedly, Inaam Ghar would be different from Amaan Ramazan, since it is going to be a game show (Pakistan's Biggest), and  it would have a familiar name with an even more accustomed concept all thanks to the legendaryTariq Aziz's "Neelam Ghar".
'Inaam Ghar' will be a three hour content that will be broadcasted on GEO Entertainment and hosted by who other than Dr. Aamir Liaquat Hussain. Thus, the loud chants of Musalmano! Tukka Lagao will echo again on weekends on late evenings.
The show will be broadcasted live from the same set as that of Aman Ramazaan.
The three hour transmission will include; Foremost the clean cut man of the hour Aamir Liaquat along with a spree of segments that would comprises of live cooking, quiz competition, hide and seek game (couples or teams will participate), choose the right partner game, Live birthday party for children, discussions with newly wedded couples and lastly, distribution of dowry twice every month for a needy family.
Aamir Liaquat's Loh e Qurani stood as the most watched show in the year, followed by three more shows on second, third and fourth rank on the same table, which are of the same transmission hosted by the same man and owned by the same television channel.
Aamir is the man who beat TV channels in ratings last year. His transmission of Amaan Ramadan alone trashed every leading entertainment channels.
Thus, Inaam Ghar is going to be an imminent threat to every other channel and leading shows.