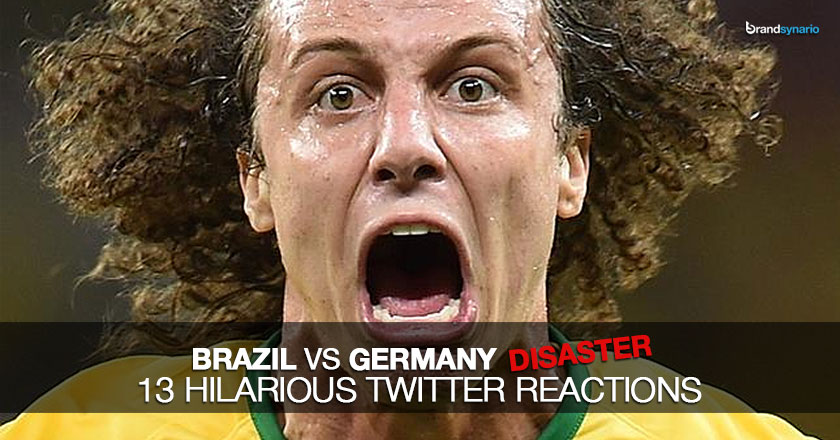 This Wednesday morning turned out to be one of the worst nights for the Brazilians who witnessed their beloved team getting ripped apart by the Germans.
The 90 minutes of torture for all Brazilians looked like 'pure – unadulterated-harassment' on the field last night.
Each time the Brazuca went through the goal in the first half, we are sure even the Brazilian players would have thought of it as a replay.
As soon as it all started, the social media lit up with hilarious memes, tweets and posts – so much so that the match became the most talked about match of the FIFA World Cup so far.
The #BRA v #GER match also set a TPM record: Khedira's 29′ goal (0-5) saw 580,166 TPM. #WorldCup pic.twitter.com/188YGgrgZg

— Twitter Data (@TwitterData) July 9, 2014
Here have a look at the reactions from the fans and feel the irony of the situation yourself: 
So many bad jokes about #BrazilvsGermany. Can't take it an neymar. pic.twitter.com/NqBHAr8Y1L

— Weird Hacks & Facts (@TheWeirdWorld) July 8, 2014
BREAKING: Brazil's Christ the Redeemer statue right now. pic.twitter.com/fvZ0YPJ5Wz

— Football Funnys (@FootballFunnys) July 8, 2014
#Ger 5…#Bra 0 #WorldCup pic.twitter.com/Gak765d876

— NBC Sports Soccer (@NBCSportsSoccer) July 8, 2014
Greetings from Brazil pic.twitter.com/PwoBM1LrF1

— Tom Miller (@tomcmmiller) July 8, 2014
Why Brazil is down 0-6.. | pic.twitter.com/fMSyAyQUKR

— 2014 World Cup (@2014WorIdCup) July 8, 2014
After #Brazil's loss… #BRAGER pic.twitter.com/DoMYtiov6a

— Reem Abdellatif (@Reem_Abdellatif) July 9, 2014
Don't they have a mercy rule in soccer? Somebody should have called a cut man! #WorldCup2014 #GermanyVSBrazil #Brazil #Germany #FIFA

— Larry Elder (@larryelder) July 9, 2014
For all those Missed the World Cup game today? This is basically what happened. #BrazilvsGermany pic.twitter.com/RsKLOTyo6n #bra #ger #worldcup

— FIFA World Cup 2014 (@FIFA2Ol4) July 9, 2014
#ThingMoreLikelyThanBrazilWinningTheWorldCup pic.twitter.com/xqqxABDZeC

— (@jxggxrs) July 8, 2014
If this poor kid was like this at 4-0, then imagine what he did when the 5th went in!? #WorldCup #BRAvsGER https://t.co/UQVYmBty0y

— FTBpro (@FTBpro) July 8, 2014
Germany's goalkeeper #BrazilvsGermany #WorldCup pic.twitter.com/rLsijql8ED

— true! (@damnitstrue) July 8, 2014
RT @_StrictlySoccer: New Brazil flag pic.twitter.com/XVTW7dbhDH

— Professional Heckler (@HecklerForever) July 8, 2014
Germany eat Brazil like Shark Attack #GERvsBRA #WorldCup2014 pic.twitter.com/pVz38437qp

— Mohammed Al Heidous (@MAlHeidous) July 8, 2014