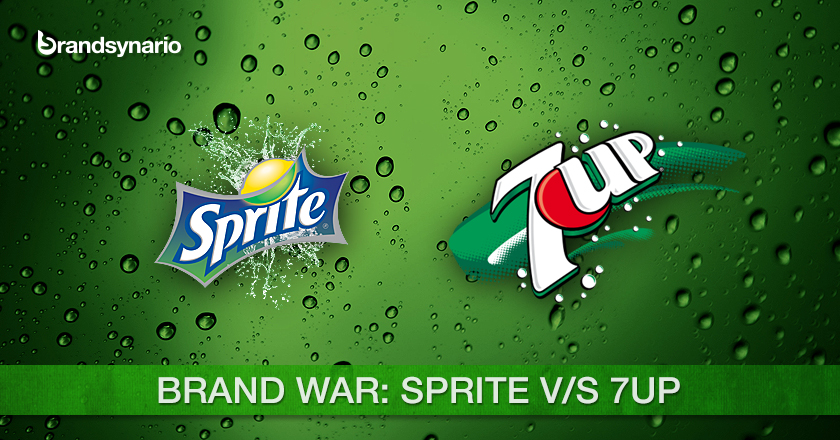 Two brands enter; one leads while the other follows.
This is what happens when two titans clash in the advertising world. While one emerges as a champ, the other is left to mourn its downfall.
History is full of such epic brand brawls, Apple Vs Microsoft, Pepsi Vs Coke, Facebook Vs Twitter, and Burger King Vs McDonalds.
One such ongoing tussle is between global white soda brands, also called 'Un-Cola' brands, "Sprite" and "7UP", which has entwined the duo's fate together in a fierce tug of war.
THE BEGINNING
7Up's rivalry with Sprite can be much attributed to the eternal feud between their parent companies, Pepsi Co. and The Coca Cola Company. 
7Up was created by Charles Leiper Grigg, who launched his St. Louis–based company The Howdy Corporation in 1920. Grigg came up with the formula for a lemon-lime soft drink in 1929. The original 7Up was called "Bib-Label Lithiated Lemon-Lime Soda".
It contained lithium citrate, a mood-stabilizing drug, until 1950. 7Up was also one of the patent medicine products popular in the late-19th and early-20th centuries.
If truth be told, the number one reason of Sprite's inception was to give a tough time to 7Up. It has been almost 52 years the two beverage brands have been in constant combat.
The opponents have not only evolved strategically, but have also kept themselves alive with just noticeable differences in their logos and look.
THE BREWING LEMON-LIME SODA WAR
For decades, Sprite and 7 Up have been sniping at each other to surface as the best. Majority of the consumers cannot tell the difference between 7Up and Sprite if they were to be served the drinks in clear glasses instead of their bottles.
As far as the ingredients are concerned Sprite relies on sodium salt while 7UP makes use of potassium salt.
If we were to compare nutritional facts of 7UP and Sprite, there are absolutely no differences suggesting that both are similar. Sprite has more of a lime taste while 7UP has more fizz and less of lime flavor. Sprite is also the less caffinated white drink.
Let's jog down the memory lane and take a look at some of the best promotional ideas by the lemon-lime soda rivals.
Sprite has always exhibited a brand personality of an adventurist who seeks freedom, desires to explore the world and loves new experiences. What first started with just a thirst quencher, Coca Cola's white soda now poses itself as a no-nonsense, refreshing drink. 
However, since its inception 7Up have positioned itself as the ultimate cool drink with Fido Dido as its universal mascot.  In recent years, the lemon-lime beverage by PepsiCo revised its marketing, positioning it as a perfect companion for spicy food.
THE EMERGING CHAMP
Statistics make it evident that Sprite is the more lovable white soda, ranked as the 6th most popular beverage of 2013, occupying 8% share of the beverage market.
Sadly, 7 Up didn't even make it to the top ten and apparently it had started losing the game back in 2000 when it occupied just 2 % of the market share.
According to Interbrand's Best Global brands of 2013, Sprite holds the 69th position with a brand value of 5811 million dollars. Once again, 7 UP is missing from the list of top 100 brands.
THE VERDICT
In Pakistan, Sprite is all the rage with its shrewd advertising campaigns "Man Ki Maan", "Sprite Nights" and"Sprite ka Tadkha" that have directly targeted teenagers and young adults who are devoted food-holics.
On the other hand, 7 UP has revamped itself from its bland and boring strategies and followed its rival footstep's by targeting youth. Its "Mano Lo Food Ka Love" has indeed become a sensation and has stolen some of Sprite's limelight.
Seemingly, the war is fierce and no one is willing to raise a white flag.
Vote for your favorite lemon-lime brand in the comments box and lets us know what you think of the much- fiery brand war between Sprite and 7 UP.