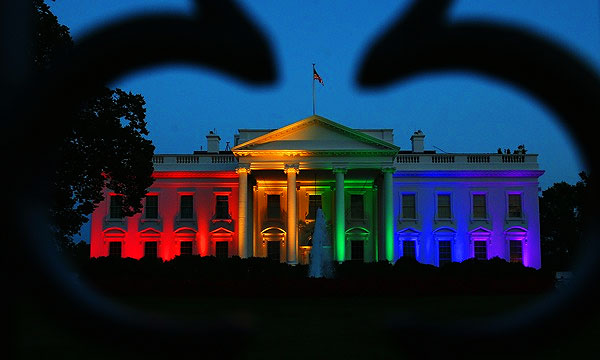 Whether we are pleased about it or revolted by it, the Supreme Court of America has ruled in favor of marriage equality across the nation on Friday.
It is not just the White House which was lit up with rainbow colors on Friday evening but the entire international social media, where the cause was very popularly supported not just by individuals but big organizations, corporations, and brand names.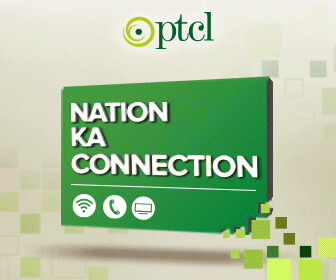 From Google to Facebook to Twitter and Instagram, people have put up rainbow-colored display pictures and brands have come up with unique and cheery creative to support the highly controversial cause of marriage equality.
Several big names in the social media such as Facebook and Twitter and Buzzfeed included sported rainbow themed avatars this Saturday.
On the other hand, search engine giant, Google added coloured art to any search results regarding the topic.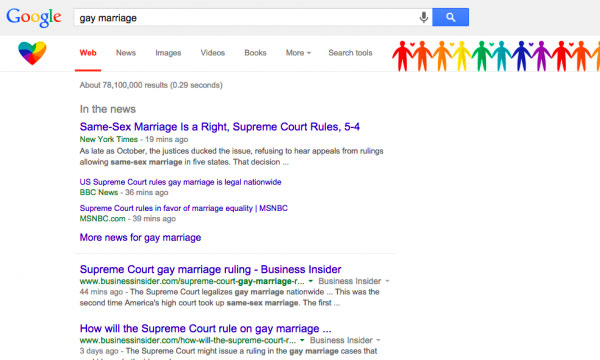 Have a look at all the support, the colors, the messages and the creativity.
#BeautyIs #MarriageEquality for all! #SCOTUSMarriage #LoveWins pic.twitter.com/MBptWTb2bV

— Dove (@Dove) June 26, 2015
It's now official. Love is love is love. #LoveWins pic.twitter.com/7oaPhOVZE2

— Coca-Cola (@CocaCola) June 26, 2015
Be proud. #equality #SCOTUSMarriage pic.twitter.com/W0wC7rUjDT

— Game Of Thrones (@GameOfThrones) June 26, 2015
Love matters. Happiness matters. #AcceptanceMatters #Marriage #Equality https://t.co/JhR3lU5rPo

— MasterCard (@MasterCard) June 26, 2015
Equality is always in style. We've been proud supporters since #1969. #LoveWins #Pride2015 #LetsDoMore pic.twitter.com/nnpQZ3tIEH

— Gap (@Gap) June 26, 2015
We are just bursting with #Pride! So much incredible music, movies, apps and more. http://t.co/m047GapR7l pic.twitter.com/1UvmgOQkJd

— iTunes Movies (@iTunesMovies) June 26, 2015
#LOVEWINS pic.twitter.com/10Ae7JJY22

— Tinder (@Tinder) June 26, 2015
The first #pride flag flew in 1978. Today we understand what it really means. #LoveWins https://t.co/lWttIejpKj pic.twitter.com/gIHwu7JRA2

— Google (@google) June 26, 2015
#LoveWins and #Solemates can finally be together. #Pride pic.twitter.com/mWxCVZJfpQ

— Tide (@tide) June 26, 2015
Long live love. #LoveWins pic.twitter.com/5l0LQZgBRb

— Tiffany & Co. (@TiffanyAndCo) June 26, 2015
— Visa (@Visa) June 26, 2015
#LoveWins pic.twitter.com/YQonaAQxOZ

— Mentos (@Mentos) June 26, 2015
Today we celebrate the Supreme Court's historic step forward in the fight for marriage equality. #LoveWins pic.twitter.com/E14RXnmnhT

— Levi's® (@LEVIS) June 26, 2015
#andproud pic.twitter.com/d6PXwMpZMB

— Android (@Android) June 26, 2015
Stay who you are. #LoveWins pic.twitter.com/2XZplHFNzi

— SNICKERS® (@SNICKERS) June 26, 2015
Wear it with pride. #LoveWins pic.twitter.com/xQWdSym1Hh

— Lumia (@Lumia) June 26, 2015
Diverse and inclusive policies help @Nasdaq & its companies lead & exceed, & we applaud the #SCOTUSMarriage… https://t.co/05Iv8Azxqo

— Nasdaq (@NASDAQ) June 26, 2015
Sharing the love today. Download our original song here: http://t.co/rPkqhxU4tm #LoveWins #LoveThisLife pic.twitter.com/Vkd2vl3wz4

— Chobani (@Chobani) June 26, 2015
The United States took a step in the right direction today. https://t.co/rcbVwtd8iM #ProudToLove pic.twitter.com/NvusiL6NWF

— YouTube (@YouTube) June 26, 2015
Kellogg's congratulates LGBT Americans on Marriage Equality! pic.twitter.com/k36u8HgywI

— Kellogg's (@KelloggsUS) June 26, 2015
Live a life that makes you proud. #LoveWins pic.twitter.com/p0kW7gYrne

— HTC USA (@HTCUSA) June 26, 2015