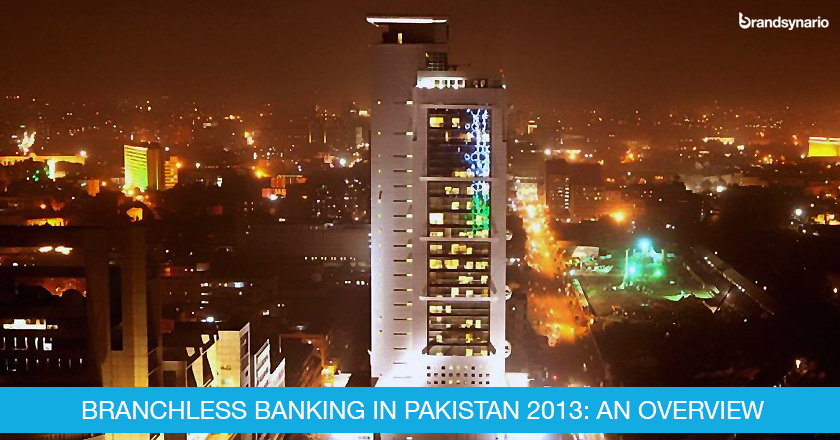 By Arif Ahmed
Introduction : 
Branchless banking is the delivery of financial services outside the boundaries of conventional banking via retail agents and information as communication technologies are used to transmit transaction details. With the help of existing retail infrastructure and mobile technologies, branchless baking reduces cost and delivers convenience to its customers.
According to the news.com.pk, Hammad Rabbani of Waseela Bank (Ex-Chief financial Officer) in 2013 stated that, 72 percent of the population is connected to mobile phones and only 12 percent have bank accounts. Some experts believe that unbanked and under banked segments offer huge opportunity to expand mobile and branchless banking but despite the disparity between these two segments, the sector showed a tremendous growth as per the latest report (July-Sept 2013) published by SBP.
Branchless Banking Turnover – 3rd Quarter (Jul-Sept) 2013 :
Branchless banking showed a healthy growth of 29 percent during third quarter July to September 2013. Branchless Banking transactions crossed 52 million mark valuing Rs 224 billion as compared to 44.7 million transaction valuing Rs 173 million during last quarter hence reflecting a 16 percent growth in number.
Market Share Division among Service Providers :
Mobile wallet is service which is attached to an electronic account dominated in currency that can be used to store and transfer value. M-Wallet transactions have marginally improved from 12 percent last quarter to 14 percent in third quarter.
Major share of BB (Branchless Banking) transactions came from Easypaisa and Omni by 61 % and 28 %respectively, whereas the accumulative contribution of new players amounted to 11.2 percent which is 4 percent more share from the previous quarter (April-June 2013).
The share of Mobile wallet transactions has marginally improved which may indicate that BB customers are gearing up to use mobile wallet. The major players were Omni and Easypaisa which grew by 36% and 25 % respectively from previous year.
In 2013, UBL Omni executed the most noticeable campaign with 32 Million budgets on TV.
According to Media tek, the first campaign of UBL Omni ran in April 2013 with a budget of 28 million followed by the second campaign in December 2013 with a budget of 4 million.
The heavy budget and a gap of 7 months between both campaigns depicts that UBL may want to maintain its brand image and market share. In addition, UBL Omni is a core product of UBL which itself is a financial institution thus, having a competitive advantage of wide network of branches.
Agents (Omni Dukans) and customers all over Pakistan contributed towards the success of Omni. On the other hand, Easypaisa has nearly 6 million unique users every month who utilize basic financial services like Utility Bill Payments, Money Transfer and Mobile Accounts.
Moreover, with collaboration with TPS IRIS payment system switch, Easypaisa has launched mobile account ATM card; customers can now access the mobile accounts through any ATM machines allover Pakistan, hence the future outlook of Easy paisa in 2014 looks favorable.
Most Used Services/Features of Branchless Banking :
According to SBP Report, mobile top payments were the largest contributor to the volume of transactions with a share of 35 percent. Top payment is a term used to transfer upload money into mobile account electronically.
Moreover, utility payments via m-wallets sharply increased by 100 percent from previous quarter after a main player incentivized these payments by waving off service charges.
For now, an OTC (Over the counter) transactions have contributed a major share of 81% in overall number of BB transaction compared to m-wallet transaction which have taken up a share of 14 percent only.
As per State bank of Pakistan, with every progressing quarter, banking Industry is becoming more competitive; however, its biggest challenge is to move beyond money transfer and bill payments and to accelerating registration and usage of customers'-wallets.
Warid, being the last telecom to come under Mobile Financial Services (MFS) collaborated with Bank Alfalah to launch its branchless product, Mobile Paisa.
According to PTA, Mobilink tops the market with 37.7 million subscribers followed by Telenor and Ufone at 32.34 million and 12.79 million respectively whereas Warid has managed to grab 12.79 customers while Zong is catching up with Ufone with 22.8 million customers. This chart indicates that cellular subscription is showing an upward trend therefore it pertinent to mention that these telecom companies should tap their customers at a micro level, perhaps more in rural area where it is difficult to create brand awareness. For instance, Warid has now collaborated with Bank Alfalah; they can leverage their brand and promote their service to Bank Alfalah bank account holders.
According to Pakistan Telecommunication Authority :
Conclusion
According to Pakistan Telecommunication authority, Mobile phone users in Pakistan have reached 129.6 million on September 2013 which is around 71 % of the total population. Hence, branchless banking has a huge potential for growth, which can only be achieved by creating dynamic strategies and by tapping new segments such as under banked and unbanked category.
It is pertinent to mention that above 25 million mostly belong to high income segment who own banking accounts.
Albeit, conventional banking has its own limitations it can only be filled by electronic payment and mobile banking.
Key Highlights: