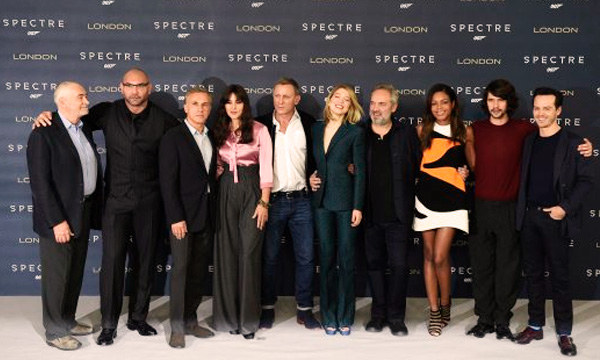 James Bond returns to the silver screen on Monday in "Spectre" at a glittering premiere in London, expected to be attended by members of Britain's royal family.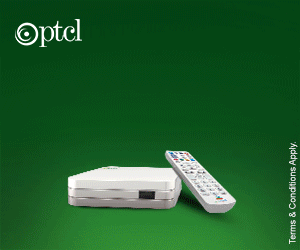 Prince William, his wife Kate and brother Prince Harry are among the guests due at the opening night for the 24th outing of the Martini-quaffing British agent.
Widely praised by critics, the film is directed by Sam Mendes and sees Daniel Craig play suave MI6 spy 007 for the fourth time.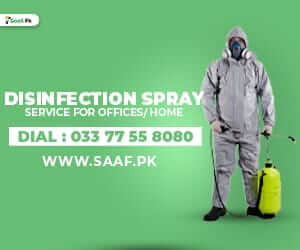 "I love making these films and the chance to come and make a movie after 'Skyfall' was a huge challenge," said Craig, referring to the last Bond film released in 2012 and the franchise's highest-grossing ever.
"You just want to move on and make a bigger and better version of the movie."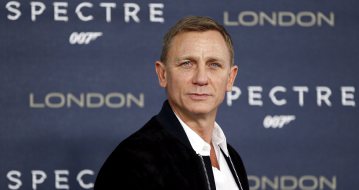 The film's title is the acronym for the Special Executive for Counter-Intelligence, Terrorism, Revenge and Extortion — a shadowy organisation bent on world domination which last made an appearance in 1971's "Diamonds Are Forever".
The organisation's members include classic Bond villains Dr. No and Ernst Stavro Blofeld, but the group disappeared from the films for decades due to a legal rights dispute that was only resolved two years ago.
"One of the most exciting parts of this movie is that we've got the chance to use that organisation and all that that brings with it," Craig told film website ScreenSlam.
Britain's Guardian and Telegraph newspapers gave Spectre a maximum five stars, the latter praising the film's "swaggering show of confidence".
However, the Financial Times gave it only two stars and said the film was attempting to alter the winning formula of "Skyfall" while "clearly being thrown into a panic at the thought".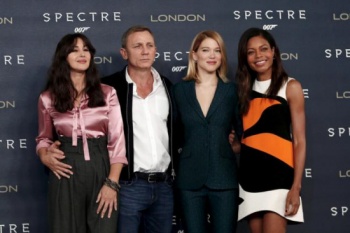 "Spectre" was filmed in England, Italy, Austria, Mexico and Morocco and includes the usual Bond ingredients: high-speed chase scenes, a suave villain, sultry female leads, exciting gadgets and witty one-liners.
"I came here to kill you," Bond tells new bad guy Franz Oberhauser, played by Christoph Waltz, in the trailer.
"And I thought you came here to die," Oberhauser counters.
"Well, it's all a matter of perspective," Bond replies with a smirk.
Wink, wink
The film opens with 1,500 extras dressed in carnival outfits recreating Mexico's "Day of the Dead" festival, the biggest opening scene ever for a Bond film, long-time franchise producer Michael Wilson told Empire magazine.
British actor Ralph Fiennes plays Bond handler and MI6 chief M and fellow Briton Naomie Harris reprises her Skyfall role as M's secretary Eve Moneypenny.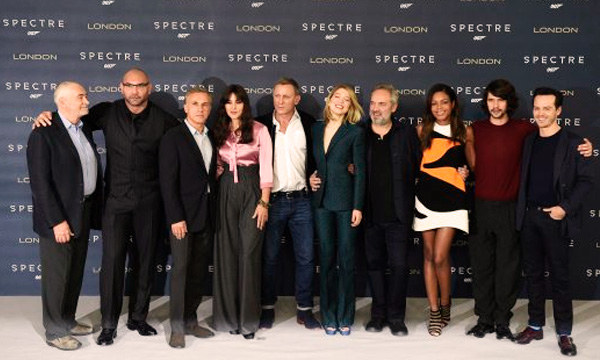 Italian actress and model Monica Bellucci plays Lucia Sciarra, "the beautiful and forbidden widow of an infamous criminal", according to the official synopsis.
At 51, Bellucci is reportedly the oldest ever "Bond Girl" — a term used to describe the attractive women featured as love interests or sidekicks in Bond films.
France's Lea Seydoux is the main Bond Girl, Madeleine Swann, a psychologist and daughter of a former Bond villain.
"We have the same sense of humour. There was a real complicity. Even when filming serious scenes we joked and had fun," Seydoux told British newspaper the Mail on Sunday, referring to Craig.
"It was always that 'wink, wink' feeling between us. The chemistry was strong. I hope the audience can feel that."
There has been speculation over Craig's future as the sixth actor to play Bond, however, after he voiced unhappiness at the prospect of doing another film — despite being contracted to do so.
He told Time Out magazine he would rather "slash my wrists" than play the famous spy again, adding: "If I did another Bond movie, it would only be for the money."