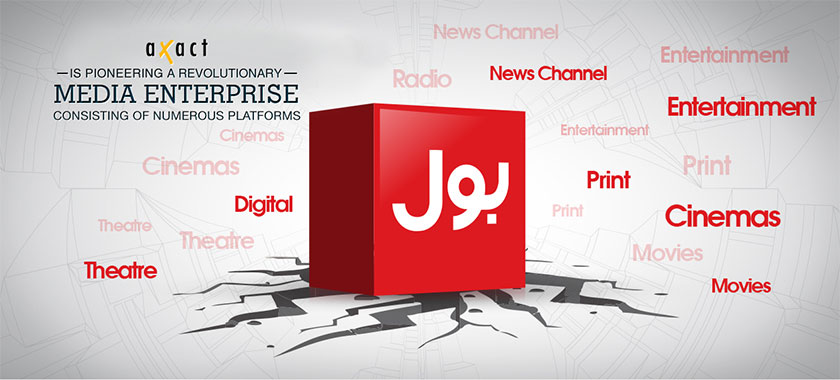 With too much hype in media, the question of BOL Media Enterprise actually coming or not remained unanswered as till now. 
This huge media network which is in plans since a few years now has recently been involved in a massive hiring spree, i.e. of hiring many big media guns like Nabeel, Farhan Muhammad Shabbir, Faysal Aziz Khan, Mansoor Ali Khan, Nasir baig Chughtai, Kamran Khan, Azhar Abbas, Asma Shirazi and many others.
Though the stance for its launch anytime soon has still not been revealed as yet; this poses the question that if BOL Media Enterprise is actually coming or is just a part of yet another media tactic by Axact, the leading IT Company behind BOL Network.
Recently, we have been hearing numerous of rumors about Bolistan, a multi-million rupees project that deserves a look at least. So here are a few leaked pictures that we recently come across,
Though, complete and official look of Bolistan has still not been revealed as yet but the leak of these pictures does confirm that something big is definitely coming.
As revealed till now BOL will be a complete Media Enterprise based upon several different media networks including Television(News, Entertainment, Sports), Digital Media (Web, Social Media & Media Apps) Print Media (Newspaper and Magazines), Theatre, Cinemas & Movies and as well as Radio.
The official website for the channel is currently up and working with details of each of the medias included in this enterprise along with the values on which the network will be based upon.
Though, the brilliant marketing strategy of this upcoming Media enterprise which has till now been the best amongst the rest is now soon expected to end with a big bang launch in 2015, but no plans for this have been officially revealed as yet.
Have something to add to this story? Comment below or contact us here.