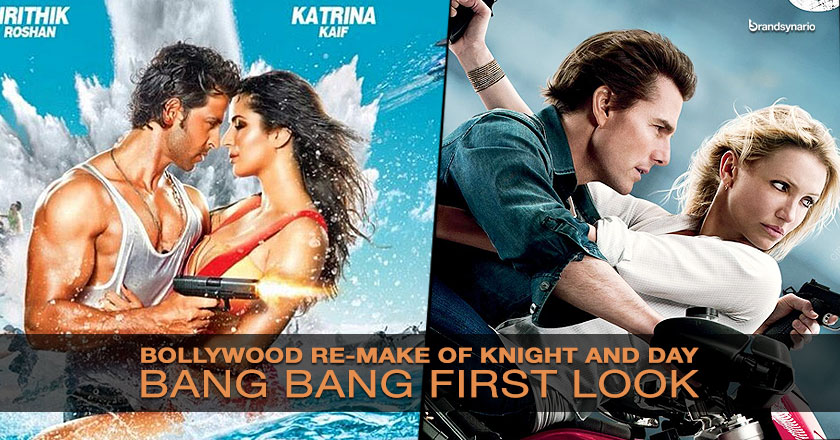 541 views
By Nida Mokhtar
The teaser of Hrithik and Katrina's upcoming movie – Bang Bang which is the official remake of Tom Cruise and Cameron Diaz starrer "Knight and Day" is making waves not just among the audience but amongst bollywood stars too. 
The teaser of the movie shows some jaw-dropping stunts, furious action sequence and drop-dead chemistry between gorgeous Katrina and definitely the hottest spy – Hrithik Roshan.
To keep the theme of the movie alive and to match the standards, the stunts are directed by Hollywood action director – Andy Armstrong and a number of foreign locations are utilized to shoot the movie including Prague, Phuket, Greece and US
Watch the trailer here:
Here is what the Bollywood celebrities are tweeting about the much-loved teaser.
Priyanka Chopra: Love the teaser of Bang Bang!! Katrina @iHrithik and Siddharth anand!! Killing it!!! (sic).
Arjun Kapoor: @iHrithik wish I cld list the words I have used in 60secs…F**K what a teaser #BangBang
Parineeti Chopra: What an amazinggggg teaser!!! Because you're Happy tananananana @iHrithik
Karan Johar: No this is what yo0u call a TEASE!!!! #BangBang The mind is blown!!!!!
Abhishek Bachchan: What a great teaser for #BangBang loved it! Well done bro braz @iHrithik , Katrina, Sid.
Abhishek Kapoor: Smashing trailer of #bangbang. Raised the bar once again @iHrithik http
Sonam Kapoor: Why are they so good looking!! @iHrithik This is too hot!
The stunts in the teaser as well as the sizzling chemistry of Kat and Hrithik may remind you of "Dhoom 2 " and "Zindagi na Milay gee Dobara" but we hope that this duo would give something new and interesting to the audience.
This action packed romance thriller is directed by Siddharth Anand and will hit the theatres on 2nd October, 2014.