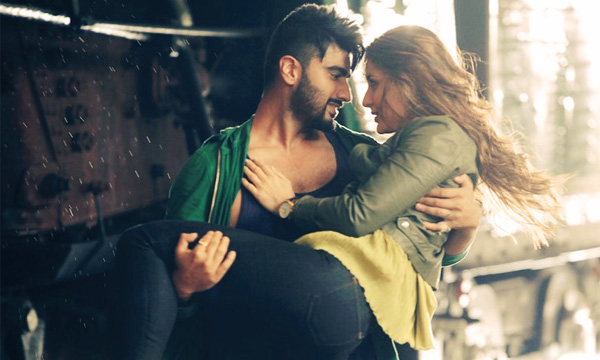 R Balki's upcoming comedy plus romantic duo film 'Ki and Ka' revealed it's first steaming hot looks on the social media. The movie is expected to be released on April 1, 2016.
View the trailer below:
View the first motion poster below:
https://twitter.com/arjunk26/status/683255635983532032/photo/1?ref_src=twsrc%5Etfw
Kabir and Kia, abbreviated as 'Ki and Ka' stars Arjun Kapoor, Kareena Kapoor, Amitabh Bachchan and Jaya Bachchan as the leading characters of the story whereas the plot of the film revolves around the gender roles of male vs. female in the Indian society.
So I wake up 2 a surprise myself…Let Kia & Kabir s romance begin…#kiandka this summer we shall make u smile… https://t.co/EIWCKxpwOp

— Arjun Kapoor (@arjunk26) January 1, 2016
Both Kareena Kapoor and Arjun Kapoor would be seen on the screen together for the first time. The sneak-peak revealed on Twitter lately proves that the couple is absolutely comfortable with each other.
Lad Ki & lad Ka in love… pic.twitter.com/q30jc3jjIN

— Arjun Kapoor (@arjunk26) January 3, 2016
On the other hand, the fans are desperately waiting for the appearance of the unusual couple on the screens. The movie is expected to be released in the year 2016, whereas the anticipated release date is April 1.