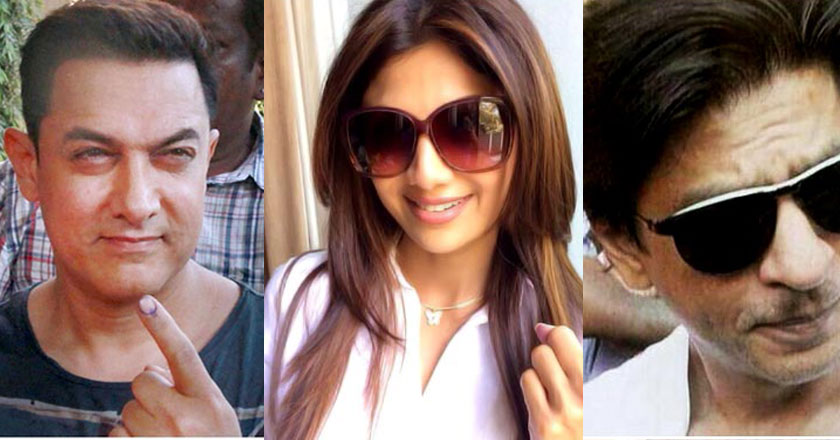 The election fever is rising high in India and like every other dutiful citizen, Bollywood celebrities casted  their votes for their preferred political parties. 
 Many of the Bollywood celebrities including Sonakshi Sinha, Vidya Balan, Aamir Khan, Rekha, John Abraham, Pretty Zinta, Neha Dhupia, Farhan Akhtar and many more shared their images with inked fingers in a hope that this will motivate their fans to move out of their homes and vote.
Not only were these images seen surfacing the internet but many other celebrities decided to share some words of wisdom instead of just pictures.
The king of Bollywood Romance, SRK tweeted,
"Most times I don't even get to choose the channel I want to watch on TV. Today I have an opportunity to choose my country's future. Awesome!"
The all-time Bollywood legend, now 71 Amitabh Bachan blogged,
"Its voting hour tomorrow… the members shall go to vote as shall millions of others, to decide for the future of the nation, the future of the leaders that shall lead us into the next, and the next."
Unlike herself, Juhi Chawla for the very first time in her life decided to vote, playing her role as a responsible citizen,
"Cast my vote in a general election for the first time!!! So happy to have done my duty… I voted for change!!! Grr!!,"
Many of the stars, including Anushka Sharma couldn't take out time or were not available in the city for voting encouraged their fans to go out and vote.
Anushka told her fans,
"I urge everyone to cast your vote today. Everyone counts and matters. Take the responsibility towards a better tomorrow. I am shooting in Rajasthan so wouldn't be able to vote. But everyone who can please do."
Saif Ali Khan's sister, Soha Ali Khan also encouraged her fans by stating facts:
"In the 2009 general election Mumbai had the lowest turnout of 41.4 per cent. Today the big day is here again – it's time to stand up and be counted!"
The super star, Aamir Khan also made a statement while making his way from the polling booth, saying,
"Voting is an important process in democracy. It is my duty as an Indian to vote."
Many of our readers can also relate the scenario from recent Pakistani elections in which many citizens including celebrities voted for the first time in their lives, in search for a change.