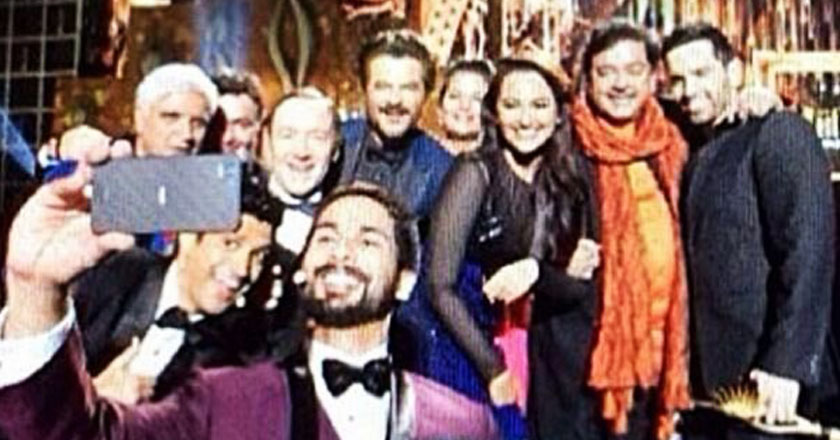 It seems like the selfie craze has still not faded away, particularly in the film faternity as Bollywood stars went crazy trying to get a perfect selfie at IIFA Awards 2014.
After Ellen DeGeneres and Obama's famous selfies, it looks like Bollywood has decided to take one of itself, with Shahid at the front and many following at his back.
During the 3 day event held at Tampa Bay, Florida it seemed that each and every Bollywood celebrity including the famous Anil Kapoor, the stunning Priyanka Chopra, the dashing Hrithik Roshan and even the beautiful Kareena Kapoor were seen going crazy to get perfect selfies.
Hrithik lit up Twitter with multiple retweets when he started posting selfies with his fans outside the airport.
Hrithik Roshan set Twitter afire when he posed for selfies with fans at the airport. #hrithikatiifa #iifa pic.twitter.com/0MpMkNWz4Z

— HrithikRules.com (@HrithikRules) April 26, 2014
Also known informally as "Bollywood Oscars", this year's IIFA awards were a sight in themselves especially when the stars from Hollywood including Kevin Spacey and John Travolta joined in the stage performances.
The awards were hosted by Shahid Kapoor and Farhan Akhtar at NFL stadium, Florida.
Hrithik who also recently suffered from a divorce mentioned in his comments, 
"This has a magical effect on me. Now I am over excited after looking at my fans. It's a great feeling to be here today," 
Here is a look at the selfies and multiple tweets from Bollywood superstars at IIFA 2014,
Here is a selfie with one and only @KevinSpacey at the Masterclass.:) @IIFA @actorprepares pic.twitter.com/MM94iJb4Hh

— Anupam Kher (@AnupamPkher) April 26, 2014
With my girl @iifa @priyankachopra queen of b-town baby! pic.twitter.com/vTfikbbKoV

— Anjula Acharia-Bath (@anjulaacharia) April 27, 2014
Hi guys. How's it going? In Tampa for IIFA. pic.twitter.com/gT3ueYs2Qa

— Dr. Shriram Nene (@DoctorNene) April 25, 2014
Thank you Andree, Viraf and Sabaas. What a show! #IIFA2014 pic.twitter.com/9O4RioZb2e

— Anil Kapoor (@AnilKapoor) April 27, 2014
The madness in Tampa begins! #IIFA2014 pic.twitter.com/W8cEiib9pp

— Anil Kapoor (@AnilKapoor) April 24, 2014
#iifa2014 Unblvable!!!' pic.twitter.com/UHnzsw18KP

— KARAN TACKER (@karantacker) April 27, 2014
Thank you @priyankachopra for allowing me to accept your @iffa award today. Huge honour. pic.twitter.com/Ci43IXghhd

— Anjula Acharia-Bath (@anjulaacharia) April 27, 2014
#IIFAAwards2014 about to begin…break a leg @deepikapadukone @RanveerOfficial @ParineetiChopra!! pic.twitter.com/GKnC3PRLRZ

— Amit Padukone (@APadukone) April 27, 2014
Sup John Travolta #IIFA pic.twitter.com/UuBogaduLs

— Alisha Chandrani (@AlishaChandrani) April 27, 2014